Stand by Me Doraemon 2: Nobita FINALLY marries Shizuka, Twitterati can't keep calm
The new poster of the film, 'Stand by Me Doraemon 2' shows Nobita marrying Shizuka and Twitter users can't keep calm.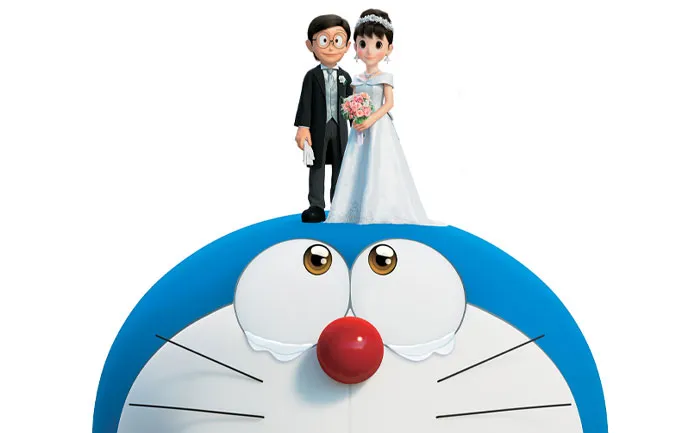 'Stand by Me Doraemon 2' is a Japanese animated science fiction comedy film based on the Doraemon manga series and a sequel to the 2014 film 'Stand by Me Doraemon.' It is based on Doraemon's 2000 short film 'Doraemon: A Grandmother's Recollections' and shortly based on Doraemon's 2002 short film 'Day When I Was Born.' Doraemon is a fictional anime creation Japanese by Fujiko Fujio.
On Tuesday, CBI Pictures shared a new poster on Twitter that shows the two lead characters of the show, Nobita Nobi, and Shizuka Minamoto married. Yes, you read that right! Looks like Nobita has finally married his longtime love and this poster is going viral and netizens on social media can't keep calm as they are emotional at their happily ever after.
"This February, the all-time hot story returns to the big screen. STAND BY ME Doraemon 2 starting February 2021 only in theaters," captioned the page.
Check out the poster:
Februari ini, kisah hangat sepanjang masa kembali ke layar lebar. STAND BY ME Doraemon 2 mulai Februari 2021 hanya di bioskop. pic.twitter.com/LTN2tN3dAn

— CBI pictures (@CBIpictures) January 19, 2021
Currently, Nobita is one of the top trending topics on the microblogging platform as our favourite anime characters are finally getting married.
Here's how Twitter reacted to Shizuka-Nobita's wedding:
me and my friends seeing Doraemon, Nobita and Shizuka trending on @Twitter (who are grownups). pic.twitter.com/77GIT3284p

— Bustin Jieber (@knownassurajit) January 19, 2021
Nobita is getting married that too with Shizuka.
So now we can all agree on "2021 is going to be a really good year".

— ً (@Abhishek_5harma) January 19, 2021
when this release i'll be sending off my childhood for the last time and i'll literally get all emotional watching nobita marrying shizuka and doraemon there be looking so proud of him 🥺 pic.twitter.com/HDtSSc6QCY

— ᰔ — (@SH3NYU3) January 19, 2021
Nobita finally getting married to Shizuka is the biggest flex in my life😭😭❤️ THESE PEOPLE MADE MY CHILDHOOD 10X BETTER. pic.twitter.com/Pnhw1DxcUF

— Alena🌻 (@alenash2010) January 20, 2021
NOO THE WAY DORAEMON HAVE TEARS IN HIS EYES 😭❤️ AND #nobita getting married to Shizuka 🥺☁️🌈
PS : I DARE YOU SAY ITS JUST ANIMATION AND SEE ME YEETING YOU OUT OF THIS MF WORLD pic.twitter.com/5CVnlT3NxN

— ปิก้า (@sornmanoban) January 19, 2021
OMG LIKE SERIOUSLY. LIKE, I AM FEELING THE proudness & happiness of Doraemon! 🥺💟#Nobita #Shizuka 😭 pic.twitter.com/iqOYmvGuWQ

— Saari Ki Saari 🍂 (@DzAnanya) January 19, 2021
In the sequel, Nobita managed to change his future for the better, by making Shizuka marry him. 'Stand by Me Doraemon 2' is directed by Ryuichi Yagi and Takashi Yamazaki. The film will be released in Indonesia in February 2021. It was originally scheduled to release in theatres on 7 August 2020. However, due to the COVID-19 pandemic, it was postponed.
ALSO READ: The 10 Best Video Games Of All Time According To Critics