Kolkata: Opposition parties call CM Mamata Banerjee's pandal visiting spree 'gimmick'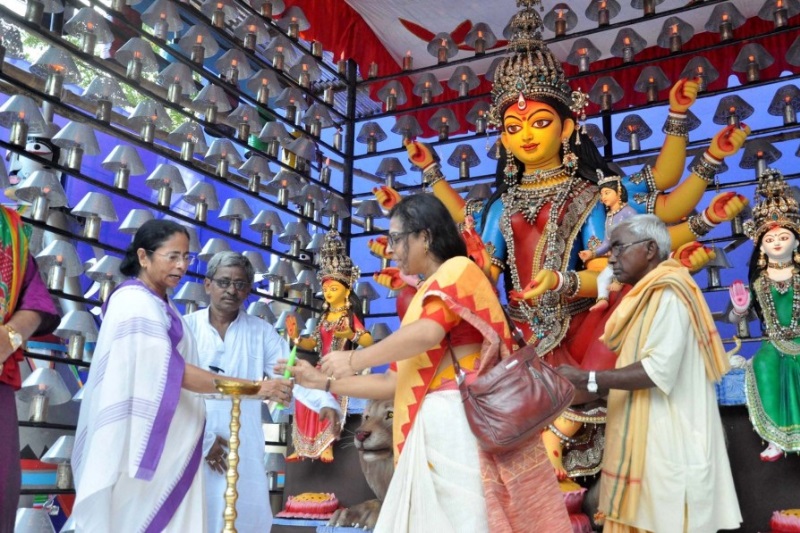 West Bengal Chief Minister Mamata Banerjee's venture of visiting puja pandals during the festive festival – she has already visited over a dozen pandals – received a huge backlash from the state opposition party, who called the spree a "gimmick" to please the Hindus.
A report in the Indian Express states that the CM has received over 10,000 invitations from puja communities in different parts of the state, including the far-flung northern districts and tribal-dominated Jangalmahal.
She hasn't been to all the pandals but ever since returning from North Bengal on Mahalaya Day, the state CM has visited many pandals both in the north and south Kolkata.
Also Read: Durga Puja 2018: 5 Pandals you can go hopping to
I wish, I could visit all of them, but that's not possible," Mamata was quoted as saying by the national daily at the Ekdalia Evergreen Durga Puja Pandal. She had started with the one at Sreebhumi Sporting club in Kolkata and has so far visited many that include the Suruchi Sangha, Ekdalia Evergreen, Baghbazar Sarbojanin, Tridhara, Chetla Agrani pandals among others.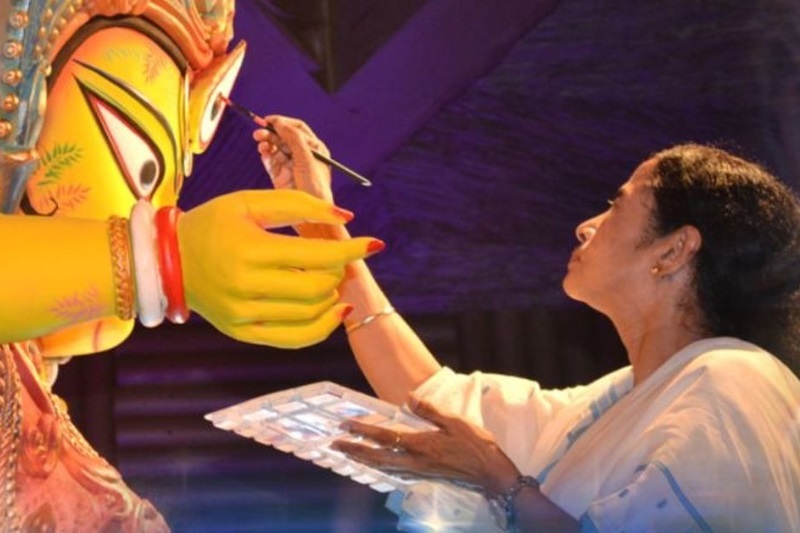 "She is often absorbed in the puja and is very attentive to detail. She will tell you if there is something wrong with your pandal or if there is something missing," said state minister Firhad Hakim, president of the Chetla Agrani Durga Puja committee.
This year the TMC chief has gone a step ahead of the opposition party leaders by not just visiting and inaugurating the pandals abut also indulging in singing hymns drawing and also talking to the public. A glimpse of it was seen at the Falguni Sangh Puja pandal where on request from the crowd, she took a pencil and paper and drew a sketch.
Also Read: Durga Puja 2018: Kolkata pandal pays tribute to sex workers
But the opposition parties claimed that this was an attempt by the ruling party to reach out to the general mass before the 2019 Lok Sabha elections.
"People of Bengal have a clear understanding of her brand of politics. These are gimmicks aimed at appeasing the Hindu community after doing the same with Muslims during other festivals," said BJP national secretary Rahul Sinha, reports the daily.
While CPM leader Samik Lahiri said that it has been a norm of Mamata to appease people by using religion as a means. "She had appeased Muslims earlier and now she is trying to reach out to Hindus," he said.
"This is the reason she announced Rs 10,000 grant for each of the 28,000 Durga puja committees across the state," said CPM leader Samik Lahiri.
Minister Aroop Biswas, however, retaliated saying "she has always advocated communal harmony at the time of festivals."
Image Source: IBTimes India