Philippines President Rodrigo Duterte Threatens To 'Shoot' Lockdown Violators
Philippines President Rodrigo Duterte has warned the violators of the lockdown.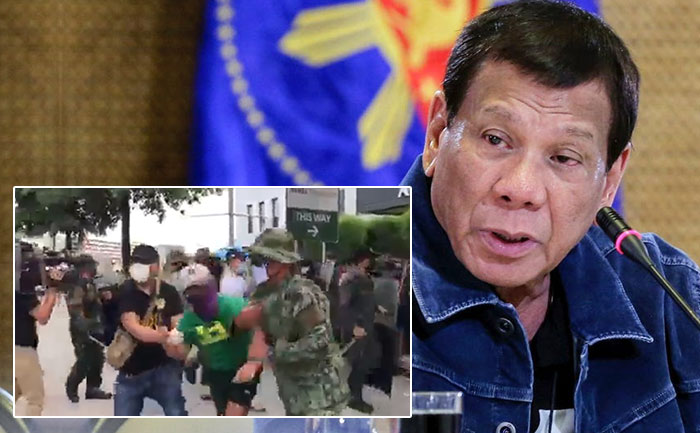 As Coronavirus has spread globally, it has been declared as a pandemic by the World Health Organisation (WHO). Philippines' main island, Luzon, is under strict lockdown orders to curb the spread of COVID-19. Despite strict orders, many people gathered on the streets on Wednesday to protest the lack of food and supplies due to the lockdown that started two weeks ago. Some even abused medical workers.
Philippines President Rodrigo Duterte has warned the violators of the lockdown and said that they could be shot down if they violate the rules of the lockdown. He also said that abusing medical workers was a serious crime and it won't be tolerated. While addressing the citizens, the President asked everyone to cooperate and follow home quarantine measures.
As per Channel News Asia, Rodrigo Duterte said, "It is getting worse. So once again I'm telling you the seriousness of the problem and that you must listen. My orders to the police and military … if there is trouble and there's an occasion that they fight back and your lives are in danger, shoot them dead."
"Is that understood? Dead. Instead of causing trouble, I will bury you," he further said.
Here's the video of people protesting for food.
FLASH REPORT: Mga residente ng Sitio San Roque na nag-rally dahil sa umano'y kakulangan ng relief packs sa QC, pinag-aaresto na ng QCPD | via @dzrh5 Val Gonzales #DZRHat80 #COVID19Alert pic.twitter.com/kIdPZlalz8

— DZRH NEWS (@dzrhnews) April 1, 2020
Meanwhile, the Philippines has surpassed more than 2000 Coronavirus cases and there are more than 100 deaths reported.
Also Read: Covid-19: After Donating 1500 Cr, Ratan Tata Opens Rooms At Taj Hotels For Doctors