PM Modi Addresses Indian Soldiers: India's Enemies Have Seen Your Fire And Fury
"Your courage is higher than the heights where you are posted today."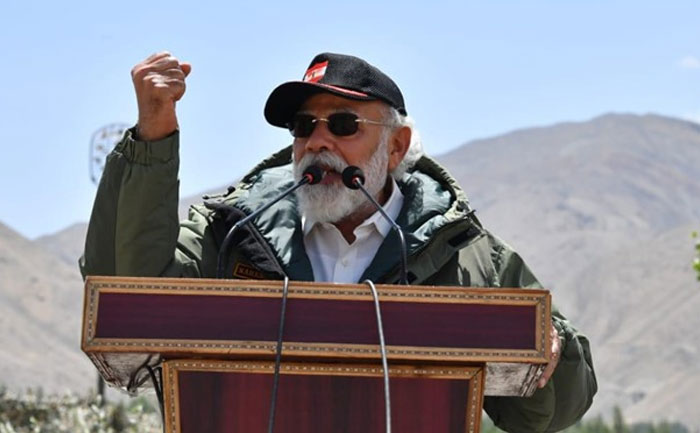 PM Narendra Modi addressed the Indian Army personnel in Ladakh today. The PM paid tribute to the soldiers who lost their lives during the altercation between Indian and Chinese troops in the Galwan Valley. He applauded the bravery and courage of the Indian soldiers. PM Modi stated, "Your courage is higher than the heights where you are posted today."
Further, the Indian Prime minster said, "The tales of your bravery are echoing in every household. Bharat mata has seen your fire and your fury". He added that the pledge to make an Atmanirbhar Bharat has become stronger due to the sacrifice and strength of the Indian Army.
PM Modi further addressed the troops in Ladakh by stating that the weak can never initiate peace. He said that bravery is a pre-requisite for peace and the world has witnessed India's bravery as well as their commitment to peace.
"If we remember the World Wars, the world has seen our strength and felt our commitment to world peace as well," PM Modi said.
Prime Minister Modi also emphasized that the willingness for peace should not be taken for weakness.
"We are the same people who pray to the flute playing Lord Krishna but we are also the same people who idolise and follow the same Lord Krishna who carries the 'Sudarshana Chakra'".
The PM went on to add that this is the age of development. He said, "Age of expansionism is over, this is the age of development. History is witness that expansionist forces have either lost or were forced to turn back". He also added that the expenditure on development of infrastructure in the border area has been increased by three times.
In closing, PM Modi again applauded the troops in Ladakh. "Today the head of every citizen of the country bows to you in respect. From Leh to Ladakh and from Kargil to Siachen, all regions have witnessed the bravery of our soldiers" he said.