Coronavirus LIVE Updates: PM Modi Indicates Longer Lockdown After Conference With Chief Ministers
Currently, confirmed COVID-19 cases in India stand at over 67,000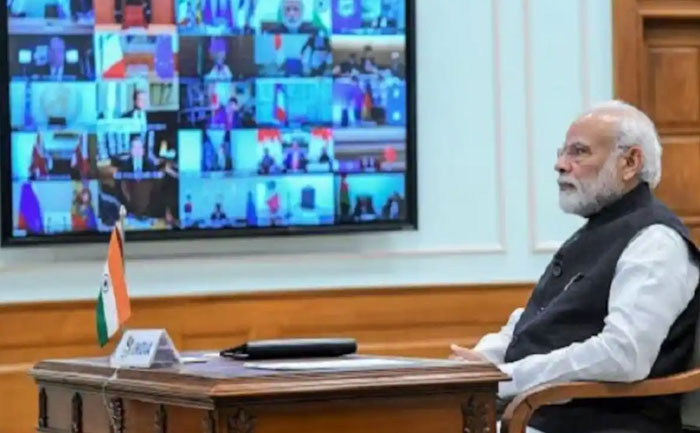 PM Narendra Modi was scheduled to hold a video conference with all chief ministers at 3.00 pm today. The prime topic of the video conference was to be the lockdown exit strategy for the states. Currently, confirmed COVID-19 cases in India stand at over 67,000. The death toll from the outbreak in India is at 2,200. Maharashtra, Gujarat, Tamil Nadu, and Delhi have reported the highest number of cases.
During PM Narendra Modi's 5th video conference meeting with Chief Ministers, Home Minister Amit Shah, Defence Minister Rajnath Singh, and Finance Minister Nirmala Sitharaman were also present.
During the conference, PM Modi emphasized that going forward the focus should be on reducing the spread. He stated that all precautions should be taken by people which includes social distancing. People should observe 'Do Gaj Doori'. In addition, the PM also stated that slowly but surely economic activities were picking back up in several parts of the country. He further expressed that they had a reasonably clear indication about the geographical spread of the pandemic including the worst affected areas. Moreover, over the past few weeks, officials have understood operating procedures in a time such as this, right up to the District level. Yesterday again, Cabinet Secretary briefed the Chief Secretaries and Health Secretaries on the current situation and the steps being taken by us.
Tamil Nadu CM Edappadi K Palaniswami said that as positive cases in Chennai are showing an increasing trend, train services should not be permitted up to May 31 in Tamil Nadu. In addition, he also requested the PM to not begin Air services till May 31. The chief minister further sought to refinance support of Rs 2,500 crore to the Tamil Nadu Industrial Investment Corporation through SIDBI and commercial banks to extend support to MSME. Moreover, he also requested for a relief package and supply of more PCR testing kits.
Meanwhile, Punjab Chief Minister Capt. Amarinder Singh also called for a continued lockdown with a well-crafted exit strategy. Additionally, he said that the zoning of green, red, and orange areas should be left to the states. He also requested a national testing strategy and sought urgent fiscal for states.
Telangana CM K Chandrashekar Rao also urged PM Narendra Modi to not resume the passenger train services. KCR also requested the PM to 'reschedule' debts that states need to pay to the Centre similar to farmer loans.
Andhra CM Jagan Mohan Reddy and Chhattisgarh CM Bhupesh Baghel also opposed resuming passenger train services.
Chhattisgarh CM Bhupesh Baghel said that state governments should get the right to make decisions on handling of economic activities within their states. They should also get the responsibility to declare red, green, and orange zones.
Maharashtra CM Uddhav Thackeray shared that cases were expected to peak in May and could go up to June or July. He called for the lockdown to be taken seriously and requested that states be given central forces if the need arises. The Maharashtra  CM also added that the police were under heavy pressure and many were also getting infected.
Meanwhile, Delhi CM Arvind Kejriwal urged that economic activities should be allowed to resume in all parts of Delhi except containment zones.
Kerala CM Pinarayi Vijayan expressed that since states face different challenges, they should be given the freedom to make reasonable changes to the guidelines relating to the lockdown. He added that special trains should be arranged for those stuck in other states to come back. However, tickets should be given according to the registration by state govt and not through online booking. He also emphasized on the need to conduct antibody tests on those being repatriated from abroad before boarding the flights.
Bengal CM Mamata Banerjee alleges that the Centre is discriminating against the state even amid a pandemic. "We are faced with several hardships being a border state. Even then we are making our best efforts and will continue to do so."
Tripura CM Biplab Deb said, "The northeast will work together and will fast track its economic activities." He also urged the PM that the NE corridor should be connected by road from Bangladesh. In addition, he sought GST collection from the Centre.
Manipur CM N Biren Singh added, "Stranded people are coming back and we will now face the challenge. We will screen them at railway station and will send them to respective homes and ask them to home quarantine. The lockdown should be gradually opened and only economic activities should be allowed with strict protocol."
Karnataka Chief Minister BS Yediyurappa proposed to do away with the district-wise demarcation into Red, Orange, and Green Zones. He added that only containment zones should be identified and strictly cordoned. The CM clarified that at least 50 to 100 meters around the known clusters may be declared as containment zones. Further, commercial activities including public transport should be allowed in non-containment zones. However, domestic and international travel should not be permitted at least until the end of May.
Jharkhand CM Hemant Soren requested the PM to expedite the return of migrants to their native states in a safe manner. In addition, due to the reverse migration happening in Jharkhand, the CM requested a 50 percent increase in the existing MNREGA labor wages for the next year. He also stressed the need to relax current wage payment norms as well as ensuring payment of MNREGA workers on a daily basis.
Bihar CM Nitish Kumar joined in to oppose the Centre's move to run passenger trains. He suggested that the lockdown be extended until the end of the month. Nitish Kumar also urged the Centre to make arrangements for transporting migrants to their homes in a time-bound manner of a week.
PM Modi stated that the lockdown will have to continue. He also asked the states to give suggestions before May 15 on what economic activities should be allowed and how to go about it.
For his closing statement, PM Modi said, "Your enthusiasm and spirit will help us win this war against coronavirus. We are working on all the possibilities and ideas to open up economic activities. Life pre and post coronavirus will see a different culture in this country. We must all work towards engaging more technology in our education imparting systems to counter situation like this. There is ample scope in out country with regards to tourism even post coronavirus we will have to explore that."