Premier League: Manchester City toil hard for 3-1 win over Bournemouth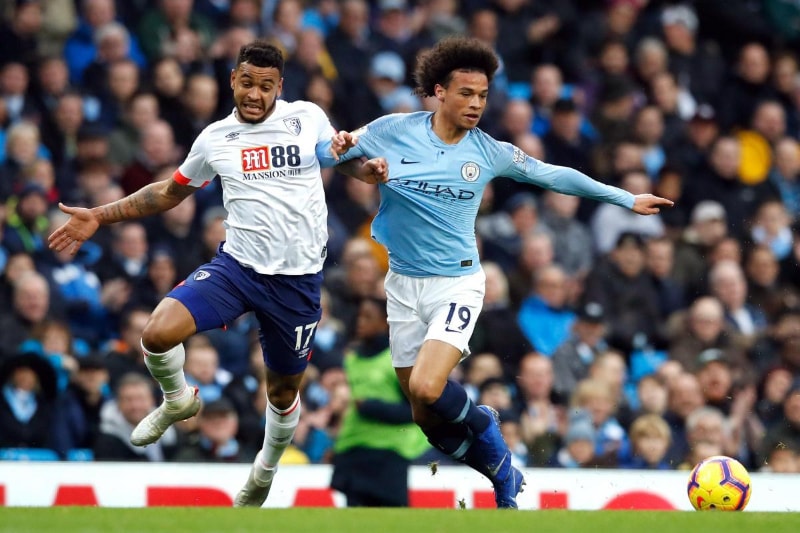 Manchester City were made to toil hard for a win against a resilient Bournemouth in the Premier League at the Etihad Stadium on Saturday. The hosts initially had taken the lead and it looked as if it would be an all too familiar story before the Cherries bounced back and even threatened to snatch a win. But Ilkay Gundogan and Raheem Sterling ensured that the holders maintained a 100% home win record this season as they clinched their eighth win in as many matches.
The scoreline (3-1 in City's favour) might suggest a dominant win for Pep Guardiola's men but the real story was far from it.
City began on the note they generally follow, bang in goals and dominate play and Bernardo Silva's strike in the 16th minute after Asmir Begovic stopped Leroy Sane's effort handed the hosts the lead.
But against expectations, the holders appeared a bit relaxed before the break and Bournemouth rightfully capitalised on the space they got.
Having been offered a lot of space and time, Eddie Howe's men build pressure before Simon Francis came up with a perfect cross for Callum Wilson who made no mistake in heading it into the net.
Yet, this wasn't the end of their spirited attacks. They threatened to take the lead after the break when a looping cross from Ashley King almost went into the net.
Also read: Premier League: Manchester United escape with a 2-2 draw against Southampton
But Sterling stepped up for Manchester City who continued his goalscoring form against the Cherries. Begovic, who parried a low shot by Danilo failed to stop Sterling from finding the back of the net after a failed clearance by Nathan Ake.
But the visitors still didn't give up and came up with some great balls but couldn't do much to their half of the scoreline.
And a close-range finish from German playmaker Gundogan in the 79th minute sealed the hard-fought win for the hosts, who are yet to lose a match this season.
"[Bournemouth] are a good side, so strong up front, so we could not press," said Guardiola, as quoted by BBC.
"They played long balls, attacked the channels. They were taller than us and stronger than us.
"In the last 20 minutes we were flat, we did not have the rhythm we needed. Winning that way, we suffered a lot in the first half, especially in the last 20 minutes. That is why I am delighted to win in that way," he added.
Other results:
Leicester City 2-0 Watford
Crystal Palace 2-0 Burnley FC
Newcastle 0-3 West Ham
Huddersfield 1-2 Brighton
Image credit-Bournemouth Echo