Prince Harry, Meghan Markle interview: Big revelations made by the couple
On 'Oprah With Meghan and Harry: A CBS Primetime Special,' here are some shocking revelations by the couple.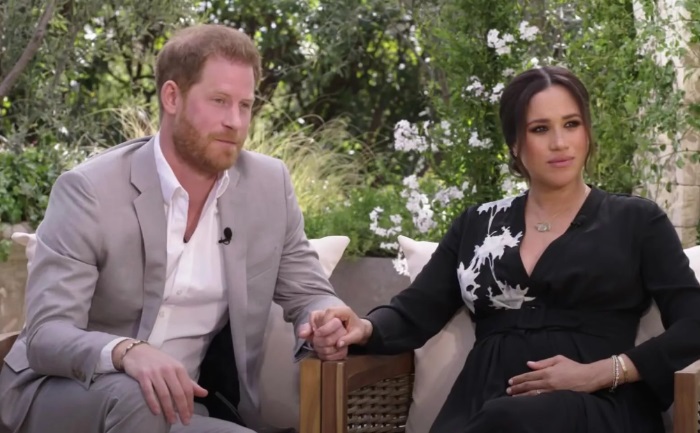 On Sunday, March 7, Meghan Markle and Prince Harry spoke to the American host Oprah Winfrey in a 90-minute interview, titled, 'Oprah With Meghan and Harry: A CBS Primetime Special,' that aired on U.S. broadcaster CBS. They made some shocking revelations about their decision of leaving the Royal Family, racism, and their second baby, check it out.
View this post on Instagram
Prince Harry and Meghan Markle interview key points:
Prince Harry and Meghan Markle revealed they got married secretly in the back garden by the Archbishop of Canterbury three days before their fairytale wedding.
Meghan also accused the British Royal Family of fretting over how dark her son's skin would be.
Their son Archie was not given the title of being a prince and was also said that he wasn't going to receive security.
Meghan revealed having suicidal thoughts during her stay in the royal family. She said that the royal institution told her she could not seek mental health help.
Meghan said that Kate Middleton 'hurt her feelings'  just before her 2018 wedding about flower girl dresses, however, later, Kate apologized and brought her flowers and a note. She called the incident "the beginning of a real character assassination."
Prince Harry revealed that after he and Meghan announced to quit their royal roles, the Royal family cut him off financially at the start of 2020.
Harry said Netflix and Spotify were never part of the plan but they were forced to find ways of making money.
Harry and Meghan revealed that their second child would be a girl and Meghan is due sometime this summer.
Meghan said that her only regret was believing that the royal family would protect her, something she said would have made all the difference. Harry revealed that if they protected them, they wouldn't have left.
Harry said that things between Meghan and the Royal family went south after their Australia tour when the members of the crown got jealous over the way Megan connected with the people and the commonwealth.
Meghan revealed that she was not guided by the Royal Family prior to her televised wedding, and had to teach herself the British National Anthem, and other things.
Talking about his relationship with elder brother Prince William, he said that he loves his brother to bits. They have been through hell together and shared an experience. But now they are on different paths.
Harry revealed that his wife, Meghan saved him from a trapped royal life
Speaking about how the royal's treated Meghan, Harry said that he was worried his mother's story would repeat itself in Meghan. He also saw an intense correlation between his wife and his late mother.
ALSO READ: Meghan Markle, Prince Harry Reveal Gender Of Second Baby, Announce Due Date