Priyanka Chopra gives Sophie Turner a piggyback ride during her bachelorette party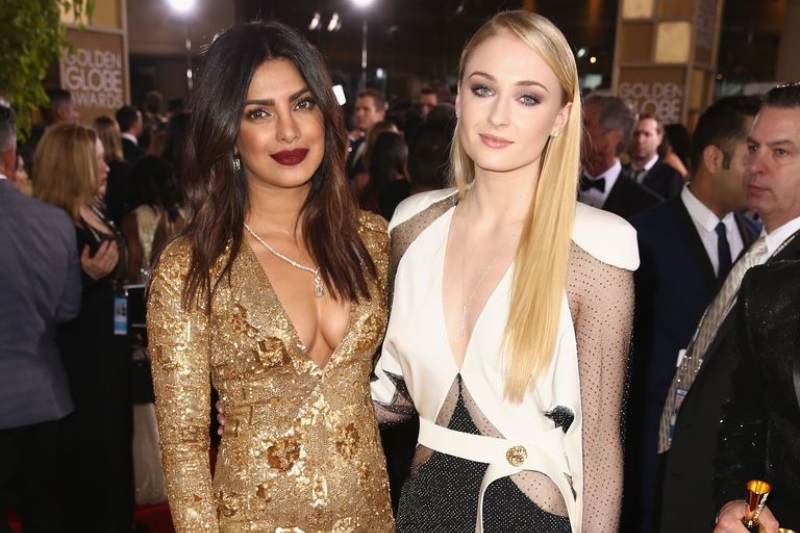 Priyanka Chopra is currently having her bachelorette party in Amsterdam and it looks like she is having a very good time with her lady friends including Sophie Turner. The two enjoyed piggyback rides, dining at posh restaurants and twirling in new dresses.
In an Instagram story posted by Priyanka on Sunday night, she is seen carrying Sophie Turner on her back while wearing high-heeled boots. Sophie is seen smiling as she clings on to Priyanka's neck. "In heels! This is what you have to do for sisters-in-law these days," Priyanka said using hashtags #TheJSisters and #HighHeelFails with the picture.
It is to be noted that Priyanka and Sophie are engaged to brothers Nick and Joe Jonas respectively. The brothers are a part of pop-singing trio of The Jonas Brothers which also includes Kevin Jonas.
Sophie also shared pictures from the bachelorette party in which Priyanka is seen strutting down a hotel lobby in a short sequined white dress with a feathery cape. In another picture, she is seen standing atop a staircase as Sophie captioned it 'Bride Goals.'
More pictures and videos from Priyanka's bridal party show her taking tequila shots, cutting a cake and dancing with her girl squad. Actor and Priyanka's cousin Parineeti also joined the party and shared pictures on Instagram. Check it out:
Importantly, Priyanka and Nick are reportedly set to get married on December 2. They will tie the knot according to Hindu wedding rituals at Jodhpur's Mehrangarh fort. According to a report, the couple will also perform at their sangeet ceremony.
"Nick will be performing with his troupe at the sangeet. It is tentatively a 45-minute performance where he will be singing some love songs for Priyanka. The event organisers have already been told about this special act that will be a part of their sangeet," a report added.
Also Read: Salman Khan, Karan Johar among others spotted at Shilpa Shetty's Diwali bash