Pune Rains: Heavy Downpour hits Pune, 22 killed, 8 missing
After Mumbai, Heavy spells of rains strikes Pune, schools and colleges to remain shut on Friday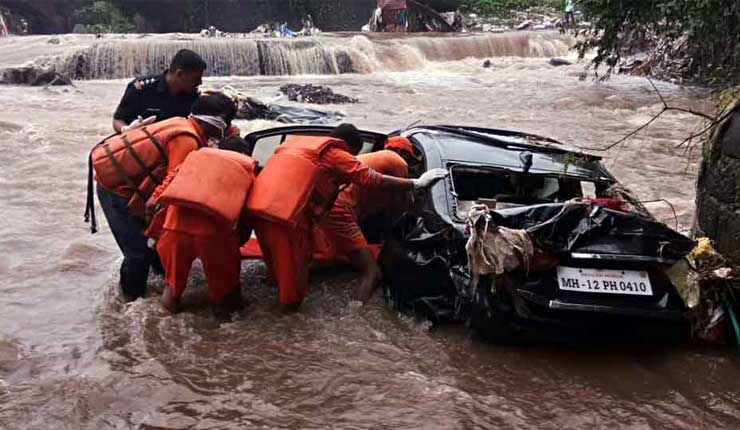 After creating havoc in Mumbai, heavy spells of rains have been hitting the streets of Pune. According to a report in The Times of India, at least 22 people were killed and more than 8 people are missing due to relentless heavy rains in Pune. Relentless rains in Pune is reported to have disrupted electricity and water supply in most parts of the city.
According to a report, over 16,000 people have been shifted from waterlogged or dam affected areas like Baramati to a safe place. Following heavy downpour on an intervening night between Tuesday and Wednesday, the district administration has declared a holiday for all schools and colleges in the city located in Baramati, Haveli, Purandhar and Bhor talukas.
Due to intense rains in Pune, Fire brigade and emergency services have been on the high alert. The famous Khadakwasla dam is overflowing. According to a report in Hindustan Times, more than 2,000 vehicles on the roads and parking lots were found submerged in the waterlogged areas of south Pune in localities such as Katraj, Bibwewadi, Padmavati and Sahakarnagar.
Notably, Thursday night was the third successive night that Pune city witnessed intense rains, bringing 53.1mm of rain in a little period of time. The city had witnessed similar intense rain, convective spell on July 19, which brought 28.8mm rain in barely 45 minutes.
Owing to relentless intense rains in Pune, toads turned into rivers while nullahs overran their banks, washing away culverts and small bridges.
The Municipal Commissioner of Pune, Saurabh Rao said that the encroachments and the narrowing of the Ambil Odha stream had constricted the natural flow of the stream and had led to the destruction in the affected areas.
Watch videos of Pune Rains Here:
#PuneRains | Visuals from Warje bridge. Be safe, Punekars!

More updates here: https://t.co/qlZz2XDgq0 pic.twitter.com/HvHLr6yKDE

— Pune Mirror (@ThePuneMirror) September 25, 2019
Roads Turn into the river in Pune
Horrible rains near Sinhagad campus, Vadgaon #punerains pic.twitter.com/trKdtmvZIG

— Kishor Sonawane (@GoldeN3east) September 25, 2019
Rains wash away culverts and small bridges
Heavy rain fall in Pune, situation below Warje Flyover was out of control yesterday night… @ThePuneMirror @PuneCityTraffic #punerains #RainUpdates pic.twitter.com/J6fbfBapcx

— Jeeten (@JeetenT25) September 26, 2019
Rains in Pune leads to panic among citizens
Smt. Kashibai Navale Hospital in #pune rains.. pic.twitter.com/4USY9S7zKk

— Rajat Jain (@159devilrajat) September 25, 2019
This is reported to be the biggest rain-related tragedies in Pune in the last few years. There was relief on Thursday due to clear skies and all attention will now shift to clearing garbage, debris and restoring normalcy in the worst-hit areas.
"The intensity of rainfall will start reducing from September 27, India Meteorological Department's head of weather department," Anupam Kashyapi told HT.