Rafale Deal: Eric Trappier interview full of 'manufactured lies', claims Congress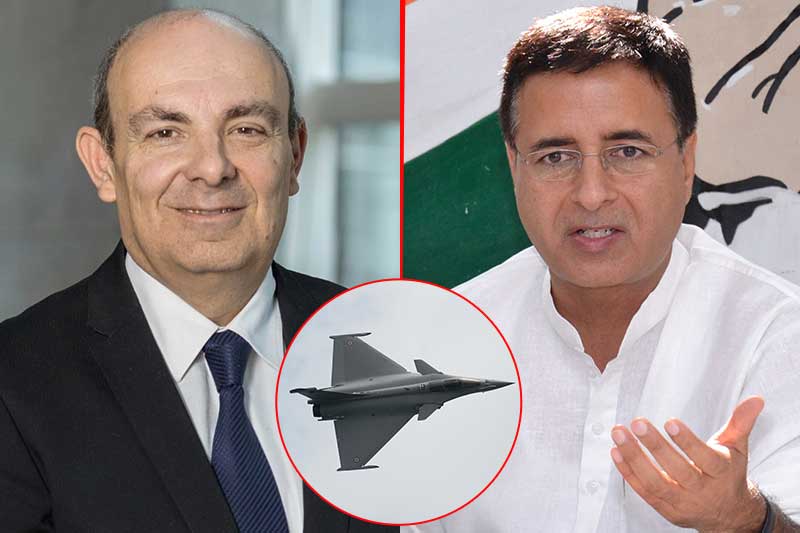 With the Dassault Aviation CEO Eric Trappier stating that there was no corruption in the Rafale deal and he is not lying, Congress spokesperson Randeep Singh Surjewala referred the interview as 'manufactured lies' on Tuesday. He added that 'dictated interviews' cannot suppress the alleged scam in the multi-million dollar fighter plane deal.
Expressing his opinion on the statements of Trappier, Surjewala took to twitter and said, "'Dictated Interviews' and 'manufactured lies' cannot suppress the Rafale Scam. First rule of Law – Mutual Beneficiaries and Co-accused's statements hold no value. Second Rule:-Beneficiaries and accused can't be Judge in their own case. Truth has a way of coming out."
#Rafale Scam!

Nation doesn't need 'doctored explanations' but 'fair investigation'!

Fixed match between BJP Govt & Dassault and PR Stunts of PM Modi & Eric Trappier can't hide the blatant corruption.

Our Statement-: pic.twitter.com/P4xAGiUj7z

— Randeep Singh Surjewala (@rssurjewala) November 13, 2018
Alleging that India needs a fair explanation and not doctored interviews , Surjewala added, "Fixed match between BJP Government and Dassault and PR Stunts of PM Modi and Eric Trappier can't hide the blatant corruption."
Earlier in an exclusive interview with ANI, Trappier had mentioned that there was no corruption involved in the Rafale jets deal and they have chosen Anil Ambani's Reliance Defence themselves. Adding more, he stated that the flights were nine percent cheaper than the previous deal for 36 aircrafts. He had said, "I don't lie. The truth I declared before and the statements I made are true. I don't have a reputation of lying. In my position as CEO, you don't lie."
However, Congress president Rahul Gandhi reiterated that PM Narendra Modi snatched the deal from Hindustan Aeronautics Limited to benefit Anil Ambani's firm. Addressing an election rally in Chhattisgarh on Tuesday, Gandhi alleged, as PTI quotes, "PM Modi went to France with Anil Ambani, snatched Rafale contract from HAL, gave it to him."
Supreme Court hearing on Gandhi's IT case:
Meanwhile, the Supreme Court has agreed to hear the plea of Congress president Rahul Gandhi and AICC chairperson Sonia Gandhi in the re-opening of their tax assessments for 2011-12 case. Earlier, it was refused by the Delhi High Court and even Congress leader Oscar Fernandes has challenged the September 10 verdict of the high court along with the Gandhis.
According to the case, the high court had refused to give the petitioners a relief in the National Herald case, giving the opportunity to the Income Tax (I-T) Department to scrutinise their records.
ALSO READ: Dassault rejects allegations of Rahul Gandhi in connection with Rafale deal