Rahul Gandhi joins Kisan March in Delhi; slams PM Modi for cornering farmers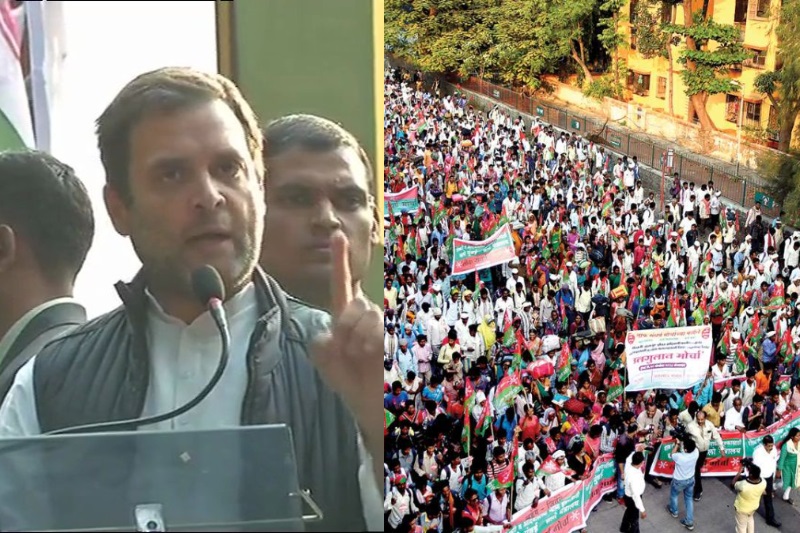 With an aim to support the distressed farmers, Congress President Rahul Gandhi on Friday joined the Kisan March at Delhi's Jantar Mantar. On the occasion, Rahul Gandhi severely criticised PM Modi-led centre for not fulfilling demands of farmers and cornering them.
He said, "Modi ji had promised MSP will be increased, PM promised bonus, but look at the situation right now, empty speeches are being given and nothing else." "If the loans of industrialists can be waived off, then the debt of farmers must be waived off as well. I assure the farmers of India, we are with you, don't feel afraid," he added.
Meanwhile, Delhi CM Arvind Kejriwal also addressed the protesting farmers. He said, "Five months are left, I demand that the Central Government to implement Swaminathan report or else farmers will bring massive revolution in the country."
Along with Rahul Gandhi, several other political leaders have expressed solidarity with the protesting farmers including Sharad Pawar, Farooq Abdullah, Sharad Yadav and Sitaram Yechury.
It is to be noted that nearly 10,000 farmers, belonging to over 200 farmers' organisations, today marched towards Parliament street to press for their demands including implementation of the MS Swaminathan Committee report, farm loan waiver and better Minimum Support Price (MSP) for their agricultural produce.
From the past couple of months, the country has witnessed a number of protests by farmers. On October 2, the birth anniversary of Mahatma Gandhi, farmers from the neighbouring states of Haryana and Punjab were not allowed to launch a protest in Delhi, which later led to a violent confrontation with the state police at the Delhi border.
Earlier, on November 22, nearly 30,000 farmers and tribals under the aegis of Lok Sangharsh Morcha demanding farm loan waiver, land ownership etc. Previously, Around 25,000 farmers under the banner of All India Kisan Sabha carried out a protest march in the national capital demanding a complete farm loan waiver.
Also Read: Delhi: Farmers' protest gaining momentum; Kejriwal, Sharad Pawar to address rally