Rahul Gandhi: Nirmala Sitharaman's lies are exposed, she should resign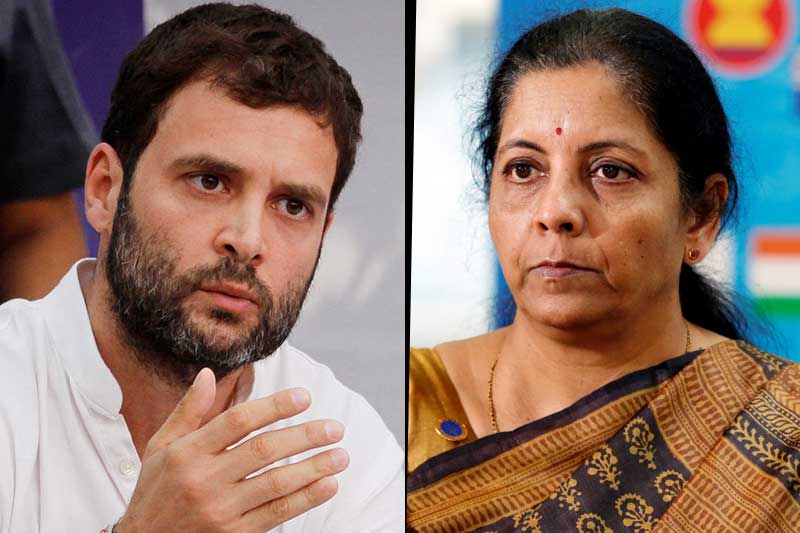 Defence Minister Nirmala Sitharaman has been accusing the UPA government for the erstwhile Rafale deal for last few days in which she even made former defence minister AK Antony too. Now, it's turn for Rahul Gandhi to hit back at the minister.
The Congress president on Thursday accused Sitharaman of "lying" on the capability of Hindustan Aeronautics Limited (HAL) and in the same vein he sought her resignation from the ministerial berth. Rahul resorted to twitter to allege that her position as defence minister has become untenable following HAL's former chief TS Raju "nailed her lie".
"The RM (Rafale Minister) tasked with defending corruption has been caught lying again. The former HAL chief, TS Raju, has nailed her lie, that HAL didn't have the capability to build the RAFALE. Her position is untenable & she must resign," Rahul tweeted tagging a report with Raju's comments regarding the issue.
Accusing the Centre of losing Rs 41,000 crore from the government exchequer and endangering national security by sidestepping HAL and favouring "some businessman friends" for awarding the contract in the Rafale deal, the Congress chief sought her resignation.
Raju questioned the veracity of Sitharaman's allegations. "When HAL can build a 25-tonne Sukhoi-30, a fourth-generation fighter jet that forms the mainstay of the air force, from raw material stage, then what are we talking about? We could have definitely done it (licence produced the Rafale jets)," Raju was quoted as saying by Hindustan Times.
It may be recalled that Sitharaman had accused that an unprecedented intervention from the former defence minister AK Antony actually made the deal fall through even after the price negotiations were complete. To which, Antony has trashed all allegations and now the former HAL chief's statement has endorsed that.
The Defence Minister also alleged that Antony didn't support the India based company to get the Rafale deal in HAL's favour.
With former HAL chief making Sitharaman's claims lighter, Congress is expected to go to the town making the issue work against the ruling party ahead of Assembly elections in few states and the General Elections due in May 2019.
ALSO READ: 'Dictatorship has become Vocation': Rahul Gandhi