Rajinikanth on PM Modi: He is a charismatic leader like Nehru and Rajiv Gandhi
Rajinikanth was all praise for PM Modi.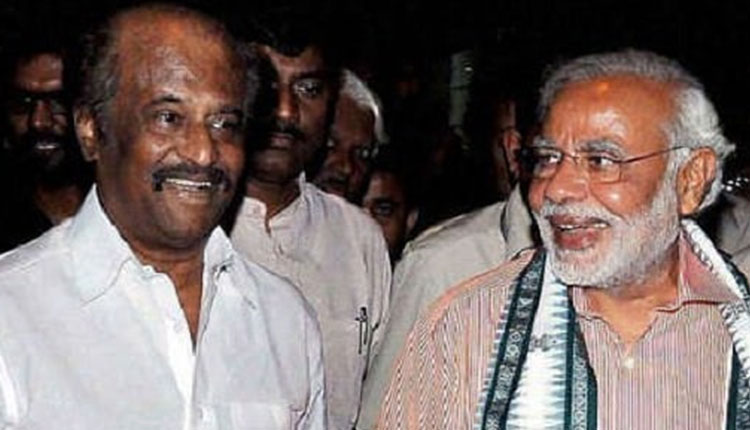 On Tuesday superstar Rajinikanth was all praise for the Prime Minister Narendra Modi on his win in the Lok Sabha Elections 2019. He called Modi a 'charismatic leader' like Jawaharlal Nehru and Rajiv Gandhi. "This Lok Sabha poll victory is a win for the individual leadership called Modi. It is the victory for a charismatic leader," he told reporters.
He also mentioned the names of Indira Gandhi, Rajiv Gandhi, Jawaharlal Nehru, Atul Bihari Vajpayee, K Kamaraj, C N Annadurai, M G Ramachandran, M Karunanidhi and J Jayalalithaa as charismatic leaders.
After them (the country) has got Modi, a charismatic leader. If you see in Tamil Nadu, there were charismatic leaders like Kamaraj, Anna, Kalaignar, MGR, Jayalalithaa. Along those lines, this victory is achieved for the leadership of Modi," the Thalaiva said.
The Darbar actor also said that he is invited for the swearing-in ceremony of PM Modi and will attend the event on May 30. When asked about Rahul Gandhi's decision of resigning as Congress chief, he said that Mr. Gandhi shouldn't quit as he doesn't lack leadership but it is difficult for him to handle his senior leaders. Adding to this, he said, "Opposition should also be strong in a democracy."
In the Lok Sabha Elections 2019, Congress won around 50 seats while BJP along with its alliances got 350 seats out of the 542 seats. It broke the record of 2014 Lok Sabha Elections by getting a majority of seats.
For more such interesting updates, stay tuned to our space.
Also Read: Darbar: First Look Of Rajinikanth With AR Murugadoss Unveiled