Rajnath Singh lays foundation stone of 576 projects worth Rs 161 crore in Uttar Pradesh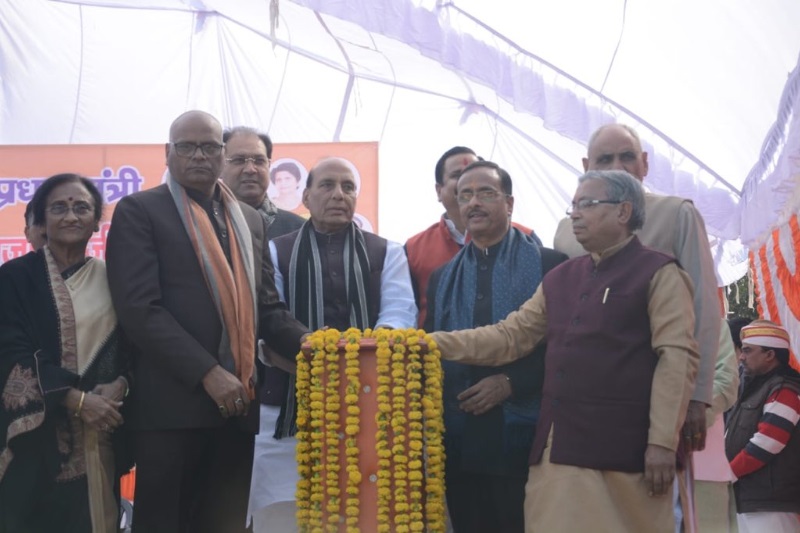 Home Minister Rajnath Singh laid the foundation stones of 576 projects worth Rs 161 crore in Uttar Pradesh's Lucknow on the occasion of the 95th birth anniversary of former Prime Minister Atal Bihari Vajpayee on Tuesday.
He inaugurated projects worth Rs 2 crore from CSR (corporate social responsibility) fund of GAIL, worth Rs 15 crore from MP Local Area Development Fund, 158 projects worth Rs 17 crore besides inaugurating Vishram Sadan having 210 beds at King George's Medical University from CSR fund of Power Grid Corporation at the medical university.
Rajnath Singh also inaugurated 17 projects worth Rs 2 crore undertaken by CSR fund of GAIL and 418 projects other projects.  Singh attended a tehri bhoj organised at Kudia Ghat in Lucknow.
The Home Minister's announcements were greeted with applause and enthusiastic Bharatiya Janata Party workers raised slogans in praise of the late Prime Minister.
Addressing the gathering, Rajnath Singh said that this celebration is nothing new to Lucknow since Vajpayee's birth anniversary has been always celebrated in Lucknow. He further noted that Lucknow was slowly but steadily moving towards acquiring the status and stature that the former Prime Minister had thought of.
The programme was attended by Deputy Chief Minister Dinesh Sharma, ministers Rita Bahuguna Joshi, Brajesh Pathak, Mahendra Singh, Mohsin Raza, MLA Pankaj Singh, Suresh Srivastava, Neeraj Bora, Union Home Minister's representative Diwakar Tripathi and several others.
Also Read: Internal security scenario has vastly improved during last four years, says Rajnath Singh