Ram Charan's wife Upasana Kamineni feels sidelined by PM Modi's meet with Bollywood stars
Narendra Modi on Saturday met with Bollywood stars to discuss initiatives to mark the 150th birth anniversary of Mahatma Gandhi.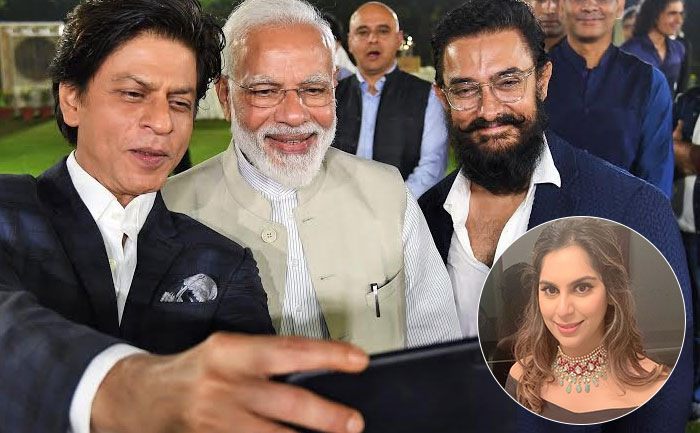 India's Prime Minister Narendra Modi on Saturday (October 19) has once again met with Bollywood stars including Shah Rukh Khan, Aamir Khan, Ekta Kapoor, Jacqueline Fernandez, Boney Kapoor and others to discuss initiatives to mark the 150th birth anniversary of Mahatma Gandhi.
Hindi film actor's meet with PM Modi did not got down well with several Tamil or Telugu film actors including Ram Charan's wife, Upasana Kamineni. The wife of Ram Charan, Upasana Kamineni seems to be feeling sidelined by the PM Modi's gesture of having interaction with only Bollywood stars.
Taking to social media, Kamineni tagged PM Modi and shared a photo of him posing for a selfie with Bollywood superstars Shah Rukh Khan and Aamir Khan. In her post, she raised her concern and explained how South Indian actors are being neglected by the PM Modi. She claims that Modi only promote the representatives and icons of the Hindi Industry.
Expressing her pain on social media she wrote," Dearest @narendramodi ji. We in the South of INDIA admire you & are Proud to have you as our Prime Minister. With all due respect we felt that the representation of Leading personalities & cultural icons was limited only to Hindi Artists and the The South Film Industry was neglected. I express my feelings with pain & hope it's taken in the right spirit. ?? Jai Hind."
There are several videos and pictures of featuring leading Hindi actors having conversation with PM Modi doing the rounds on social media.
"Spreading the thoughts of Mahatma Gandhi through cinema, ensuring more youngsters are well-acquainted with the ideals of Gandhi Ji… We exchanged thoughts on a wide range of subjects," PM Modi said.
Our film and entertainment industry is diverse and vibrant.

Its impact internationally is also immense.

Our films, music and dance have become very good ways of connecting people as well as societies. 

Here are more pictures from the interaction today. pic.twitter.com/711sKni29l

— Narendra Modi (@narendramodi) October 19, 2019
"The members of the film industry came with a lot of suggestions. I am happy to share that we have addressed them to ensure more people can see the brilliant work done by our film personalities," PM Modi tweeted.
Upasana Kamineni's opinion on the unfair gesture of Modi is receiving a lot of support from the South Indians actors.
Also Read: Howdy Modi Event: PM Modi Leaves His Mark At Global Stage Once Again