Ram Mandir Bhumi Pujan: PM Narendra Modi, UP CM Yogi Adityanath Others Arrive in Lucknow
Ram Mandir Bhumi Pujan: PM Narendra Modi, UP Chief Minister Yogi Adityanath, BJP leader Uma Bharti and Yoga Teacher Ramdev Reach Ram Janambhoomi Site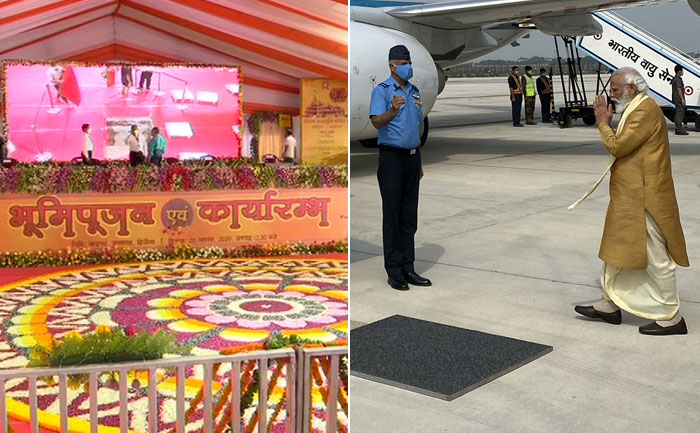 Ayodhya is decked up for the 'bhoomi poojan' or groundbreaking ceremony of Ram Temple scheduled to be held on August 5. The city has been painted yellow and prayers were offered to the Nishan (flag) of Lord Hanuman, revered as the protector of the city.
श्री अजोध्या 🙏#सबके_राम pic.twitter.com/y4F5dLmkwR

— Rekha Sharma (@sharmarekha) August 4, 2020
Finally, the much-awaited day is here. The ceremony will be attended by Prime Minister Narendra Modi and 50 VIPs including Uttar Pradesh Chief Minister Yogi Adityanath.
Here is all you need to know:
A 40-kg silver brick will symbolize the beginning of the construction. The proposed temple will be a grand three-story stone structure. It will have multiple pillars and domes. Reportedly the temple will be 161 feet tall and almost double the size of what was originally planned.
श्री राम जन्मभूमि मन्दिर विश्व में भारतीय स्थापत्य कला का अनुपम उदाहरण होगा।

जन्मभूमि मन्दिर के प्रस्तावित मॉडल के कुछ चित्र।

Shri Ram Janmbhoomi Mandir will be a unique example of Indian architecture.

Here are some photos of the proposed model.

जय श्री राम! Jai Shri Ram! pic.twitter.com/8kJ4qEYah2

— Shri Ram Janmbhoomi Teerth Kshetra (@ShriRamTeerth) August 4, 2020
PM Modi has reached Ayodhya prior to the function, will take part in 'pooja' and 'darshan' at Hanumangarhi.
#WATCH Prime Minister Narendra Modi offers prayers at Hanuman Garhi Temple in #Ayodhya ahead of 'Bhoomi Pujan' of #RamTemple pic.twitter.com/yq2XsUlGKo

— ANI (@ANI) August 5, 2020
The PM will be honoured with a silver crown & a stole with name of Lord Ram printed there. He will then travel to 'Shree Ram Janmabhoomi' where the PM will plant a Parijat sapling and perform the 'bhoomi pujan'.
श्री राम जन्मभूमि पर अनुजों सहित विराजमान भगवान श्री रामलला जी के आज प्रातः काल के दिव्य दर्शन

Divya Darshans of Bhagwan Shri Ramlalla Virajman from Shri Ram Janmbhoomi complex.#JaiShriRam #RamMandir4Bharat pic.twitter.com/m44AdMmwH6

— Shri Ram Janmbhoomi Teerth Kshetra (@ShriRamTeerth) August 5, 2020
The PM will also unveil a plaque to mark the laying of the foundation stone and release a commemorative postage stamp on 'Shree Ram Janmabhoomi Mandir'.
Also Read: #AyodhyaVerdict: Bollywood Celebrities react on the Supreme Court's judgement