'Build Ram temple or you won't remain in power,' Uddhav Thackeray warns BJP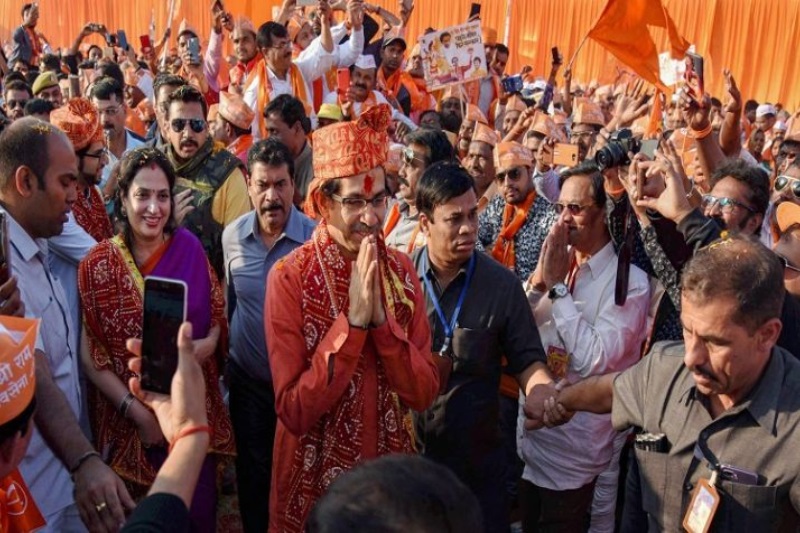 Today, Ayodhya turned into a fortress as the right-wing group Vishwa Hindu Parishad (VHP) held a massive gathering to mobilise support for the building of building the Ram temple at the disputed land. The gathering demanded that the government pass an ordinance or executive order to bypass the legal process.
Notably, the Ayodhya title suit is pending in the Supreme Court, which will take a call on a date of hearing in January. Uddhav Thackeray- Shiv Sena chief, who has been in Ayodhya since yesterday and held a rally, warned that unless the temple is built, the BJP would find itself out of power in the upcoming election.
Here are the top developments of the event:
1. The Vishwa Hindu Parishad group, which has been drumming up support for Ayodhya for weeks through rallies and other public events, said its 'Dharma Sansad' will be the biggest-ever gathering of saints for the temple. The outfit said they were expecting 3 lakh people. Sources present at the ocssion said around 50,000 people attended the event.
2. Uddhav Thackeray has accused the BJP of dragging its feet on temple construction, today said, "Do whatever it is you have to do. A temple has to be built This government is very powerful and if they (the BJP) don't build a temple they will not be in government."
3. Keshav Prasad Maurya- UP Deputy Chief Minister, expressed his disregards upon Shiv Sena's sudden push for a temple. The news agency PTI quoted him as saying, "The Shiv Sena had no role in the temple movement or even in the Dharam Sabha."
4. Anti-terrorism squads, 42 companies of Provincial Armed Constabulary and nearly 1,000 policemen and five companies of Rapid Action Force personnel, were deployed in the town. The government used unmanned drones to monitor the situation from air.
Heavy deployment of CAPF(Central Armed Police Forces), PAC(Provincial Armed Constabulary), ATS(Anti-Terrorism Squad) has been done.Drone cameras being used to assess crowd. 13 parking spots have been designated, 2000 buses from various places have come to Ayodhya: ADG (law&order) pic.twitter.com/iQgKnB2VuT

— ANI UP (@ANINewsUP) November 25, 2018
5. Former UP chief minister and Samajwadi Party chief- Akhilesh Yadav said that the Army should be deployed in Ayodhya if need be, to maintain law and order. Uttar Pradesh minister OP Rajbhar expressed similar views and described the mass gathering of right-wing elements in such a sensitive area as a 'failure of the government'.
6. Mayawati- Chief of Bahujan Samaj Party, said the BJP and the Shiv Sena are raking up the Ram temple issue ahead of the Lok Sabha polls to divert attention from their failures.
7. Shiv Sena head Uddhav Thackeray has said that his two-day visit to Ayodhya is not linked to the VHP event. Uddhav Thackeray, who landed in Ayodhya last evening with his family (wife and son) — said it was his first visit to the temple town, a pilgrimage to seek 'darshan' of Ram Lalla.
8. Minority party, All India Muslim Personal Law Board chief Zafaryab Jilani said the idea of a VHP meet has 'terrified' the Muslim residents of the city. Mr Jilani told news agency PTI, "The Muslims living in Ayodhya are terrified for the past week. We have also asked those feeling insecure to come to Lucknow if they want."
9. Prior to the mass gathering, the Uttar Pradesh government announced that the proposed Ram statue on the bank of river Sarayu, the signature tourist attraction of Ayodhya, will measure 221 metres — taller that the Sardar Patel statue (also known as statue of Unity) in Gujarat.
The case is in the SC, we should either wait for orders or find consensus. Govt has a lot of land, it (Ram temple) could be constructed across the Sarayu river. There should be no talks of temple on a disputed land: Shivpal Yadav, Pragatisheel Samajwadi Party Lohia in Lucknow pic.twitter.com/uWQ7XdWqwZ

— ANI UP (@ANINewsUP) November 25, 2018
10. Earlier this year in November, the Supreme Court declined an early hearing of petitions in the Ram Janmabhoomi-Babri Masjid title dispute case. A bench comprising CJI Ranjan Gogoi and Justice S K Kaul said that it had already listed the appeals before the appropriate bench in January.
Meanwhile, RSS Chief Mohan Bhagwat said that justice delayed is justice denied, over SC verdict on Ram Mandir issue.
Also read: 'Mann Ki Baat' is not 'Sarkari Baat' but 'Bharat Ki Baat': PM Modi delivers 50th episode today