Republic Day 2021: Amitabh Bachchan, John Abraham, Kangana Ranaut And Others Share Best Wishes
Bollywood Celebs Such As Amitabh Bachchan, Taapsee Pannu, Kangana Ranaut And Others Share HeartFelt Wishes For Their Fans On Republic Day Today. Check Out The Posts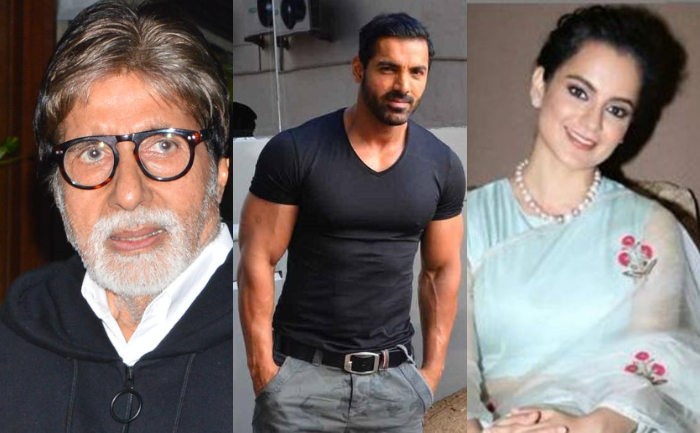 Today marks the 72nd Republic Day of India, the day in 1950 when the Constitution of India came into force after the partition. Bollywood celebs such as Amitabh Bachchan, Taapsee Pannu, Kangana Ranaut and others share heartfelt posts on social media wishing their fans peace and prosperity. Celebs also shared lovely pictures on Twitter today, check them out.
Amitabh Bachchan
T 3794 – 26th January .. Republic Day 🇮🇳🇮🇳🇮🇳🇮🇳🇮🇳🇮🇳🇮🇳
Happiness peace prosperity and .. be safe .. be protected pic.twitter.com/EWRLN0OMXJ

— Amitabh Bachchan (@SrBachchan) January 25, 2021
John  Abraham
TANN MANN DHANN, se Badhkar JANN GANN MANN!
The team of #SatyamevaJayate2 wishes everyone a Happy Republic Day!

See you in cinemas this EID on 14th May 2021 pic.twitter.com/iFSMq9qMrS

— John Abraham (@TheJohnAbraham) January 26, 2021
Sidharth Shukla
#HappyRepublicDay2021 to all Indians …. did you guys know that the Indian constitution is the longest in the world with 448 articles and 12 schedules …

— Sidharth Shukla (@sidharth_shukla) January 26, 2021
Sonu Sood
Pledge to change a life.
Happy Republic Day ,🇮🇳 pic.twitter.com/tCWVatC2hq

— sonu sood (@SonuSood) January 26, 2021
Manoj Bajpayee
Happy Republic Day 🧡🤍💚🇳🇪 pic.twitter.com/tzJDWUPhGb

— manoj bajpayee (@BajpayeeManoj) January 26, 2021
Taapsee Pannu
On 72nd Republic Day here's wishing and hoping that we all read and understand our constitution as much as we celebrate it. Will help us be more patriotic than what we actually are.
Jai Hind 🇮🇳 #HappyRepublicDay2021

— taapsee pannu (@taapsee) January 26, 2021
Kangana Ranaut
On this Republic Day know your constitution and how you got freedom, lot of people did lot of PR and took credit also twisted our history but the deserving ones simply gave their lives they clearly couldn't do any PR…#HappyRepublicDay2021 pic.twitter.com/zcSyu4y9fd

— Kangana Ranaut (@KanganaTeam) January 26, 2021
For more such updates, stay hooked on to The Live Mirror.
Also Read: Republic Day 2020: 10 Bollywood Movies That'll Evoke A Spirit Of Nationalism In You