Republic Day 2021: Woman Fighter Pilot, Rafale Jets And More
Key things to watch for this year's Republic Day parade; Woman fighter pilot, Rafale jets and soldiers in masks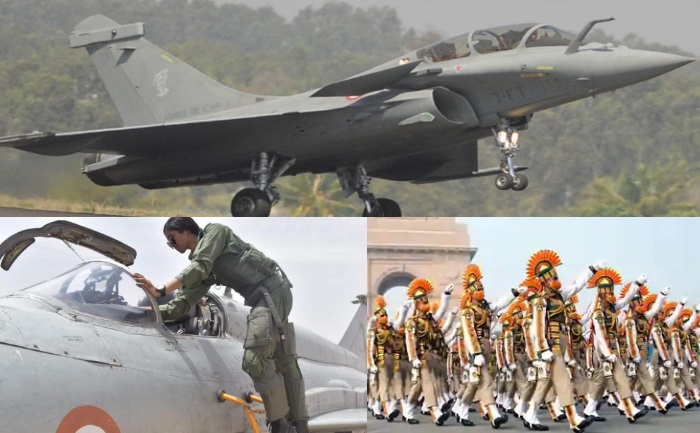 Republic Day falls on January 26 every year. The day is celebrated to mark India's adoption of the Constitution on January 26, 1950. This happened after gaining independence from British rule in 1947. On this day, the Republic Day Parade is organised in Delhi following the flag hoisting. But this year due to the ongoing Coronavirus Pandemic there will be many things not allowed and many firsts too.
Here's is all that will be new in this year's R-Day parade:
1. Soldiers in masks
Following the new norms of Covid-19, soldiers marching down the Rajpath will also be seen wearing masks along with spectators.
2. CRPF tableau
In another first, a tableau of Central Reserve Police Force (CRPF) is also set to wow spectators during the Republic Day parade.
3. Woman Fighter Pilot:
Flight lieutenant Bhawana Kanth will be a part of the Republic Day parade this year to become the first woman fighter pilot to take part.
4. Flypast by Rafale Jets:
Along with 42 other aircraft, newly-inducted Rafale jets will also participate in this year's parade. These aircraft will be part of different formations during the flypast
5. Bangladesh Armed Forces:
At least 122 soldiers of the Bangladesh Armed Forces will be taking part in the parade. France (2016) and the UAE (2017) are the first two foreign countries to have participated in the R-Day march
6. Ram Mandir tableau:
Uttar Pradesh's tableau will feature a replica of the Ram Temple in Ayodhya, which is currently under construction.
All the things that will not be a part of the parade:
No Chief Guest:
This will be the first R-Day parade without a chief guest in more than five decades.
No Motorcycle Stunts:
No motorcycle stunts by the army and the Central Armed Police Force (CAPF) personnel
Veteran's Parade:
veterans' parade by ex-servicemen and women is also cancelled
Also, there will be no parade by recipients of the national bravery awards. The number of spectators and media persons, too, has been reduced.
Also Read: India: Voter ID Cards to Go Digital on National Voter's Day