Road built over sleeping dog: Agra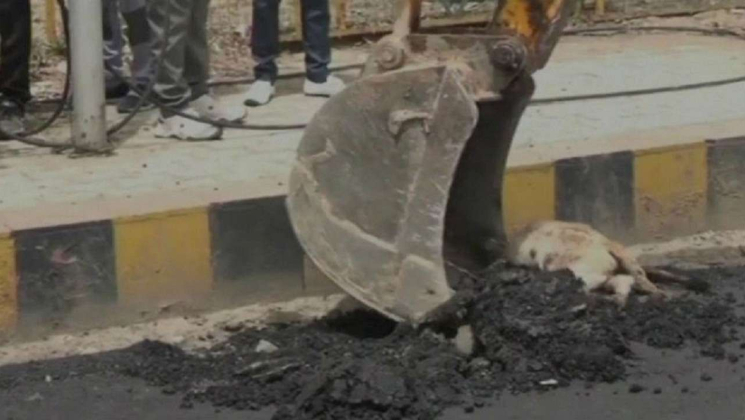 Now dogs being used as material to make road in Agra by RP Infrastructure . Inhumane !!! @agrapolice @CMOfficeUP pic.twitter.com/PphlHNHttw

— Anil Tiwari (@Interceptors) June 12, 2018
A video purportedly showed a dog being buried under bitumen by the worker of RP Infraventure Pvt. Ltd.
According to reports, the dog was alive and howling in pain when tar was poured over it.
The dog's body was removed after a police complaint was filed. The Public Work Department has also sent a notice to the company.
Meanwhile, demanding action against the 'dog killers', several residents demonstrated outside the Sadar police station.
"A fresh layer of coal tar was being laid on the road from Phool Sayyed crossing towards the Circuit House and the Taj Mahal.A dog was sleeping on one side of the road.Instead of chasing the animal or Following the report, social activists and dog lovers vented their anger on social media", they added.
Road construction company RP Infraventure Pvt. Ltd. constructed part of Fatehpur road over a dead dog in Agra. The dog's body was removed after police complaint was filed,PWD has also sent a notice to the company pic.twitter.com/rivppo9ZxD

— ANI UP (@ANINewsUP) June 13, 2018
Anand Rai, a social activist, said: "Height of cruelty." Anuradha Sharma, a Facebook user, was "speechless".
Senior journalist Sunayan Chaturvedi said "(it was) an act that shames humanity." The project's contractor in-charge said an inquiry was underway and "those found guilty would be shunted out as punishment."
Govind Parashar, a right-wing activist in Agra, claimed that he saw the dog's legs buried under the newly-built road and it was squirming in pain. Moments later, he alleged, the dog died.
"I felt really bad and I wanted to bury the dog, so we got the dog's body dug out," he said.
"I also wanted that road construction workers get a lesson so that they don't do this again, so I filed a complaint against the construction company," Mr Parashar told ANI.