Romeo Akbar Walter Movie Review: It's Twists & Turns Will Keep You Intrigued
Romeo Akbar Walter Review: After Raazi Yet Another Smartly Executed Spy Thriller That Will Stir Your Senses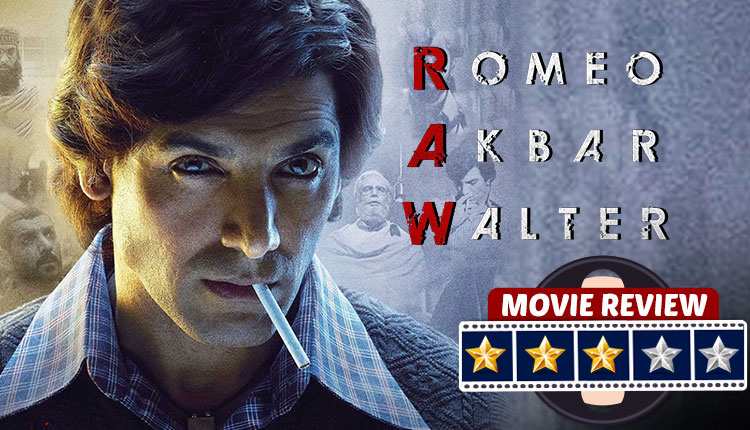 Romeo Akbar Walter Director: Robbie Grewal
Romeo Akbar Walter Producer: Viacom 18 Motion Pictures, Dheeraj Wadhawan, Ajay Kapoor, Vanessa Valia, Gary Grewal
Romeo Akbar Walter Cast: John Abraham, Mouni Roy, Jackie Shroff
Time Duration: 2 hours 24 minutes
Romeo Akbar Walter (RAW) Review:
After 'Satyamev Jayate' and 'Parmanu: The Story of Pokhran', John Abraham seems to have delivered its best perfromance in Robbie Grewal's latest film 'Romeo Akbar Walter'. Talking about the story of the film, it revolves around an Indian spy who goes to Pakistan to gather secret information as you must have heard a sentence in the trailer, 'India and Pakistan are on the verge of war'.
In RAW, John Abraham is the son of a martyred army man, who laid his life during Indio-Cino war 1961. John also wanted to be like his father but his mother (Alka Amin) does not want to lose his son like his father. John and Mouni Roy, who has a few minutes of screen presence in the film, work in a bank. Later, John Abraham gets selected as an undercover agent by Research and Analysis Wing chief Shrikant (Jackie Shroff). How John gets selected as an agent is another story and twist in the film and we are not going to reveal any information which spoils your interest.
Apart from this, RAW is another interesting movie from John Abraham, which has enough twists and turns to keep you hooked until the last minute. Talking about the performances of John Abraham and Jackie Shroff, they did a splendid job. It is to be noted that the film does not have many songs but the background music is top notch.
After getting training, Romeo goes to Pakistan Occupied Kashmir (PoK) and changes his name from Romeo to Akbar and within three months in the same locality, John becomes the right hand of Pakistani arms dealer Isaq Afridi (Anil George). It is to be noted that Isaq Afridi is also a close associate of Pakistan Army Cheif, Parnendu Bhattacharya (General Zorawar). John Abraham continues to send secret information to India regarding the biggest weapon deal an attack on East India, which is now Bangladesh.
Seeing John's closeness with Isaq, Pakistan Army colonel Khuda Baksh wonders and turns out to be the only one who asks the relevant questions in Romeo Akbar Walter. Later, John gets trapped badly and had to face to the third-degree torture by Khuda Baksh.
Somehow, John gets released from the prison and makes his mind to return to India. He calls Jackie Shroff and requests him to help him get out of Pakistan. Jackie clearly refused to help and says "I can't do anything and you are no different than the Pakistani people."
Following this scene, the questions arise in our mind, Will John betray India? or Will he take revenge to India for not supporting him in a difficult time and leaving for dead? It is to be noted that we have not yet introduced you, Walter.
You will have to watch the film to get these answers.
Watch Romeo Akbar Walter Trailer below:

Also Read:
Romeo Akbar Walter Review
Romeo Akbar Walter Is a must watch this weekend even if you are not a die hard fan of John Abraham. It has several twists and turns to make your jaw hit the floor.
The Live Mirror Rating

6