Roohi Movie Review: Rajkummar Rao & Janhvi Kapoor starrer Is A Seesaw of Highs And Lows
Roohi Movie Review: Rajkummar Rao and Varun Sharma are the shining stars in this mundane horror comedy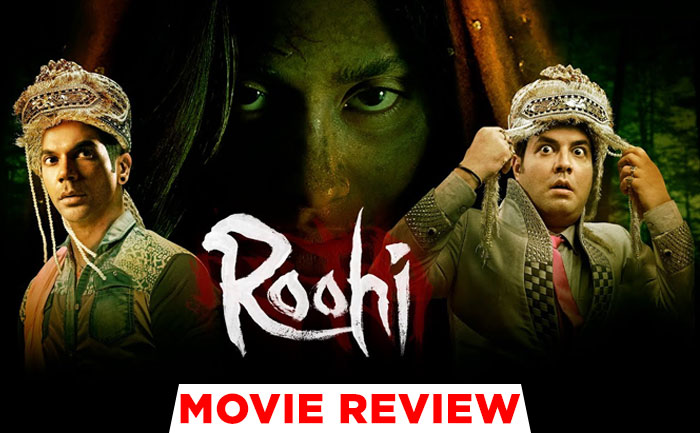 DIRECTOR: Hardik Mehta
RUNTIME: 2hr 25 min
CAST: Rajkummar Rao, Varun Sharma, Janhvi Kapoor, Manav Vij, Alexx O'Nell
STORY: Roohi is set in a fictional town of North India. The film revolves around two small-town boys Bhaura and Kattanni who are stuck in a forest with Roohi. But there's an insidious spirit following them with feet turned backwards. What will happen next?
STARS: 2
Dinesh Vijan is back with his next installment in the same horror universe after his blockbuster Stree. Roohi features three talented actors-Rajkummar Rao, Janhvi Kapoor and Varun Sharma in the key roles. Though the film has some good scares and genuinely funny moments, they fail to leave their mark in the long run. Director Hardik Mehta tries to blend the two genres in Roohi but the movie lacks the certain something that made Stree a hit.
Two small-town boys Bhawra (Rajkummar Rao) and Kattanni (Varun Sharma) are in the business of kidnapping girls and getting them forcibly married. Then enters Roohi (Janhvi Kapoor) and these kidnappers get way more than they bargained for. They do not know that she is possessed by the spirit Afzana. The plot takes an interesting turn when Bhawra and Kattanni fall for Roohi and Afzana. What happens next is for you to watch on the big screen.
Varun Sharma is as always delightful in Roohi. The smallest mundane dialogue is elevated to a new high with his acting skills. What can say about his comic timing, he has once again proved that he has mastered the art of comedy. Rajkummar Rao has once again left his mark as a small-town guy. Though his character is quite similar to his Stree role he still injects a new life in the role. Thanks to his mannerism and acting skills he stands out once again. Janhvi Kapoor is good at playing the timid ghost and the shrieking chudail Afza. She delivers the chills and the smiles with equal ease. But doesn't really get her moments to shine.
Amalendu Chaudhary's camerawork is good and so is Ketan Sodha's background score. The film has a few good scares but they're far and wide.
Watch it for Rajkummar Rao and Varun Sharma's camaraderie,
Watch trailer:
Also Read:  Nadiyon Paar: Janhvi Kapoor Is Graceful In New Song Of Roohi