'Rosie': Palak Tiwari and Vivek Oberoi's first look revealed
Rosie: Mandiraa Entertainment and Oberoi Mega Entertainment share first look of Palak Tiwari and Vivek Oberoi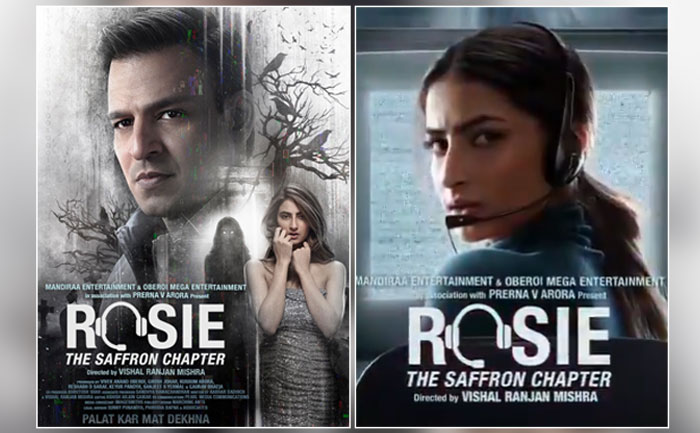 Mandiraa Entertainment and Oberoi Mega Entertainment announced two back to back mega movies – 'Iti' and 'Rosie' recently. Today the makers have shared the first look of Vivek Oberoi and Palak Tiwari on social media. The look is much loved by fans and has added to the excitement.
Here are the first look posters:
ANNOUNCEMENT… #VivekOberoi heads the cast of #Rosie… #PalakTiwari – daughter of #ShwetaTiwari – makes her acting debut… Filming begins Dec 2020… Directed by Vishal Ranjan Mishra… Presented by Mandiraa Ent and Oberoi Mega Ent in association with Prerna V Arora. pic.twitter.com/T32XVFQ1RQ

— taran adarsh (@taran_adarsh) September 20, 2020
MOTION POSTER… #VivekOberoi and #PalakTiwari… Motion poster of #Rosie… Filming begins Dec 2020… Directed by Vishal Ranjan Mishra… Presented by Mandiraa Ent and Oberoi Mega Ent in association with Prerna V Arora. pic.twitter.com/WqRJZySIWm

— taran adarsh (@taran_adarsh) September 20, 2020
'Rosie' is a genre-defining film with a novel experience and it is India's first horror-thriller film franchise. It's based on true events. The franchise's first part known as, 'Rosie: The Saffron Chapter' is set against the backdrop of one of the most haunted places of Gurugram – the Saffron BPO. The film, inspired by true events, tells the story of a young girl named Rosie, who used to be an employee in this BPO.
Mandiraa Entertainment's Prerna V Arora says, "With Rosie, our aim is to push the envelope in Bollywood by bringing in a new kind of storytelling in the horror-thriller genre. The first look is just the tip of the iceberg to give a sense of what's coming to the audience. We are ready to go into production by the end of November 2020. We are closely monitoring the pre-production and will be following the safety guidelines to the highest possible degree, during the shoot."
Director Vishal Mishra adds, "Rosie is very close to my heart as it gives me the scope to add new dimensions to the horror-thriller genre in our mainstream cinema. It's a huge responsibility not just creatively but also socially to shoot a film at such times. We will start rolling by the end of November and will ensure everyone's safety on the set."
Vivek Oberoi, who's been one of the biggest stars of the country, while talking of 'Rosie', says, "We are proud and excited at the same time, to present the first look of Rosie. Each one of us is deeply connected to this project emotionally. As we look forward to starting the filming in November, we are leaving no stone unturned to ensure a watertight safety for all our crew members."
Palak Tiwari, who is making her big debut with the horror-thriller says, "Rosie irrefutably is not your average horror film, it's an amalgamation of romance, spine chilling thrills, laced with an intriguing perspective. What makes it even better is the eximious team of people behind it. I'm truly honoured to be a part of this production and this family along with a team of people that are true aficionados of their respective fields such as Prerna ma'am, Vivek sir and our amazing writer-director Vishal sir."
Reshabh D Saraf also adds, "For us at Mandiraa Entertainment, it's always about experimenting and delivering great content. Rosie is one film that has our heart, it's a huge emotional investment for everyone associated with the film. We are all set to start to go in production in November and are looking forward to a great experience and serving a delectable horror-thriller with Rosie."
Producer Kussum Arora, says, "Rosie is the doorway to a new world of franchise horror-thrillers in India. The film will lay the foundation for advanced storytelling in this genre. We are proud to present this film and bring in new flavours for the masses."
Keyur Pandya says, "Rosie explores the horror-thriller genre like never before. With principal photography starting in November, we would like to put out that we are following the safety guidelines for every process related to this film and the same will be maintained throughout the filming of Rosie albeit with more precautions."
"Rosie has been a dream come true for all of us. The story, right from its inception has been something that's quite close to all of us. As Indians, we all can connect to this story very well. To add to it, we also have the genre of horror-thriller which is totally new and unexplored in our country. I think audiences will love to see it. Plus we are trying to follow every possible measure in order to curb the spread of Covid-19. We go on floors by November, and everyone is super excited for the film," says Sanjeet Yermel.
Girish Johar, who has been an indelible part of the project right from the inception, shares, "The moment has finally arrived where we introduce Rosie to the world. Our next step will be going on floors by November. We understand that the world is witnessing some testing times. Hence, we have made a point to work with extra caution of a set and ensure everyone's safety."
'Rosie: The Saffron Chapter' stars Palak Tiwari in her debut role. The film is presented by Mandiraa Entertainment and Oberoi Mega Entertainment in association with Prerna V Arora, and produced by Vivek Anand Oberoi, Girish Johar, Kussum Arora, Reshabh D Saraf, Keyur Pandya and Sanjeet S. Yermal. The film is all set to go on floors by November. It shall hit theatres mid-2021.
Also Read: Shweta Tiwari's Daughter Palak Tiwari Set For Bollywood Debut With Rosie: The Saffron Chapter