Sabarimala: 'Pepper spray' attack on activist Bindu; Trupti Desai arrives in Kochi
Watch: Activist who visited Sabarimala in Jan attacked with chili powder on way to shrine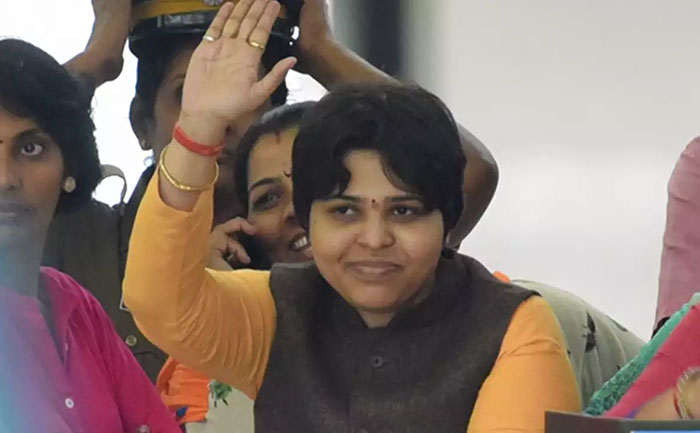 Activist Trupti Desai landed at Kochi airport on way to the Sabarimala shrine. Trupti was forced to go to the office of the Kochi Police Commissioner seeking security. Speaking to the media Trupti said that she is waiting for the Commissioner's office for security. As they are determined to go to Sabarimala and offer prayers. She further added that she will resort to fast if she is not allowed to go up.
Bindu Ammini, one of the two women who had managed to enter Kerala's Sabarimala temple in January, also reached the commissioner's office for security. Soon Sangh Parivar members also reached the police chief's office. During a heated exchange between them and Bindu someone in the group threw chili and pepper powder on her face.
Check out the video here:
Shocking visuals of pepper/ chilli spray being sprayed at Bindu Ammini outisde the commissioner office by one of the protesters . She has been moved to the hospital. Six other women including Trupti Desai inside the police commissioner's office. #Sabarimala #Kerala @ndtv pic.twitter.com/d24chgs8b3

— Sneha Koshy (@SnehaMKoshy) November 26, 2019
Bindu had stepped out of the Commissioner's office to collect some files from the car when the attack happened. The accused was later arrested. Bindu has been moved to General Hospital in Ernakulam for treatment.
The Supreme Court had lifted the centuries-old ban on female worshippers of menstruating age last year but it recently decided to refer review pleas against its judgment to a larger bench. Following this, the state government has adopted a cautious approach and made it clear Sabarimala was not a place for activism
Traditionalists contend that the entry of female worshippers of childbearing age into the sanctum sanctorum in Sabarimala is sacrilege because Lord Ayyappa, the presiding deity, is celibate.
Also Read: Supreme Court Refers Sabarimala Review To Larger Bench