Sabarimala: Hindu organisations held massive protest against SC verdict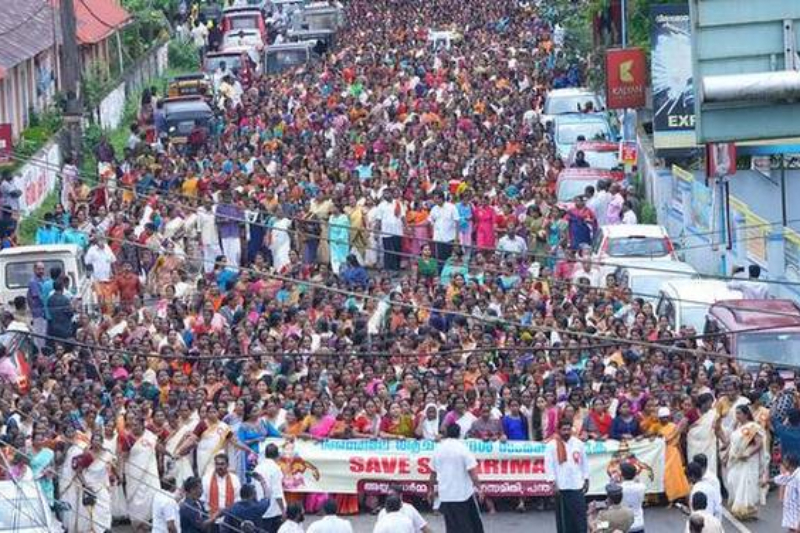 Expressing their dismay over the landmark victory of Supreme Court of allowing women of all ages to offer worship at the Sabarimala Ayyappa temple, some Hindu organisations on Tuesday held massive protest with banners in different parts of Kerala.
Rallying under the banner of Sabarimala Protection Council, the large number of Hindu activists blocked traffic in Kochi and Thiruvananthapuram that resulted in mild tension. In Kochi, the activists gathered on the National Highway at Vyttila.
While the biggest turnout was seen at Pandalam where hundreds of Ayyappa devotees including a large number of women held the 'Naamajapa Yatra', called by the Pandalam Palace. The 'Naamajapa Yatra' began from the NSS Medical Mission junction and ended on the Valiyakoickal Sastha temple premises around 5.45 pm.
While addressing the devotees' meet on the palace premises, Pandalam Palace managing committee president P.G. Sasikumara Varma said that the ongoing protest was to protect the 'Ayyappa Dharma' and the ritualistic tradition at Sabarimala.
"Devotees across the country would stage a united fight from the common apolitical platform against any move to destroy the age-old customs and traditions at Sabarimala," he added.
He further asserted that there has never been any ban on women at Sabarimala and scores of women devotees above the age of 50 and below the age of 10 had been undertaking the Sabarimala pilgrimage for the past so many years.
Interestingly, on September 28 this year, the Supreme Court allowed women of all ages to enter into Kerala's renowned Sabarimala temple. The Court today lifted the ban on the entry of women ageing between 10 to 50 years.
Previously, women of menstrual age were not allowed to enter into Sabarimala temple as its presiding deity, Lord Ayyappa is considered to be a celibate.
Also Read: Sabarimala Temple verdict: Women of all ages can enter Temple, says Supreme Court