Salman Khan Wishes To Play Genghis Khan In His Biopic
Salman Khan to play Genghis Khan in his biopic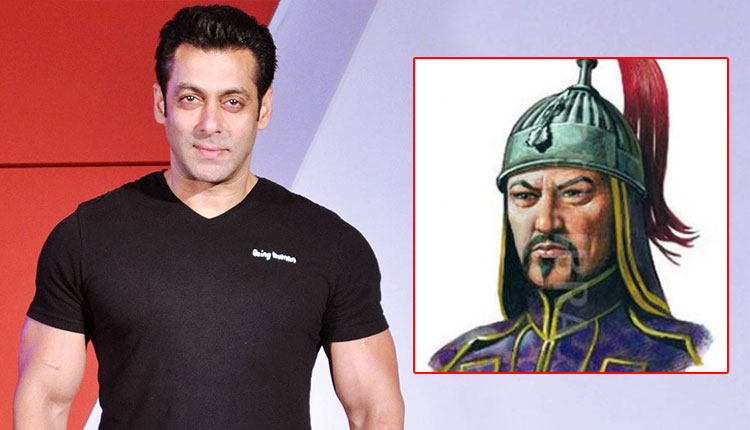 Bollywood superstar Salman Khan has several films in his kitty including Dabangg 4, Inshallah and others. The Bajrangi Bhaijan actor is currently gearing up for his much-awaited movie Bharat, which is an official adaptation of South Korean film Ode To My Father. In a recent interview, Salman Khan has expressed his wish to play the role of the Mongolian emperor, Genghis Khan (Changez Khan).
Salman Khan and Katrina Kaif are currently on a promotional spree. When Bhaijan was asked that there are several films in Bollywood are being made on Historical events and personalities, do you have any character that you would like to portray on the silver screen. Responding to the question, Salman Khan said that if he ever gets to play a historical role he would love to play the role of Genghis Khan. Salman Khan On Bharat: I Want Reward Not National Award
Who is Genghis Khan?
Genghis Khan was the founder and first Great Khan of the Mongol Empire, which became the largest contiguous empire in history after his death. After founding the Empire and being proclaimed "Genghis Khan", he launched the Mongol invasions that conquered most of Eurasia.
There were several campaigns initiated in his lifetime which include Caucasus, Khwarazmian, Western Xia and Jin Dynasties. These campaigns were mostly accompanied by large-scale massacres of the civilian populations – especially in the Khwarazmian and Western Xia controlled lands. By the end of his life, the Mongol Empire occupied a substantial portion of Central Asia and China.
Directed by Ali Abbas Zafar, the film Bharat features Katrina Kaif, Salman Khan, Nora Fatehi, Tabu, Jackie Shroff, Direction Patni and Sunil Grover in the lead role.
Bharat is scheduled to hit the theatres on June 5.