Happy Birthday Salman Khan: Dabangg 3 actor has THESE 10 most ridiculous expensive things?
Salman Khan Turns 54: Here's the list of 10 most ridiculously expensive things owned by Salman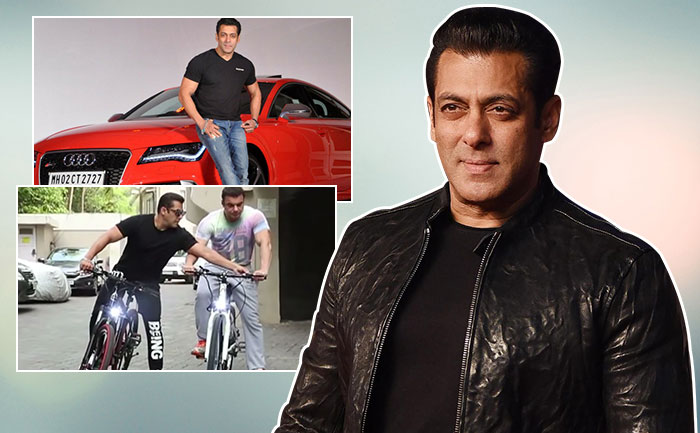 Bollywood superstar Salman Khan is undoubtedly one of the most bankable Hindi film actors. He has recently achieved a milestone of having 15 consecutive Bollywood movies cross Rs 100 crore mark at the box office. The Bhaijan of B-Town will turn 54th on December 27, 2019. In this article, we will talk about Salman Khan's next worth and the most ridiculous expensive things he currently owns.
Salman Khan is regarded as the richest and most bankable Bollywood actors. The Dabangg of Hindi cinema, who began his acting career in 1988 with a movie titled Biwi Ho to Aisi, has become most sought after actor of Hindi film industry. Rare and Unseen Photos of Salman Khan
Speaking about Salman Khan's next worth, his earning from October 1, 2018, and September 30, 2019, is estimated to be ₹229.25 Crores including his film releases, television appearances and brand endorsements.
Salman Khan is not only a most sought after actor but a TV host as well. As Salman is all set to celebrate his 54th birthday at Sohail Khan, we have brought you a list of some of the most expensive things that he owns.
From luxurious cars to lavish houses, Salman Khan has everything that every people dream. There are certain things owned by Salman Khan will surely blow your mind. The list of Salman Khan's expensive things we have mentioned below were highlighted by a YouTube channel.
10 ridiculously expensive things owned by Salman Khan?
Giant Propel 2014 XTC – Bicycle
There are dozens of videos available on YouTube showing Salman Khan cycling in Mumbai. You must be thinking that the cycle Salman Khan is using would cost him Rs 20,000 to Rs 50,000. But, you are wrong, his bicycle – the Giant Propel 2014 XTC is estimated to costs whopping Rs 4.32 lakh.
Motorbikes
Salman Khan loves riding motorbikes not only in movies but in real life as well. Even most of Salman's fans do not know how many motorbikes he owns. The Dabangg actor owns four top-of-the-line motorbikes that surely features on every man's dream list. Do you remember Johb Abraham riding a Suzuki Hayabusa in Dhoom? Yes, Salman Khan owns that bike in real life. The estimated prize of Suzuki Hayabusa is Rs 15 lakh.
Besides Suzuki Hayabusa, Salman also has Yamaha R1 (Rs 15.6 lakh), a Suzuki GSX-R 1000Z (Rs 16 lakh) and a Suzuki Intruder M1800 RZ (Rs 16 lakh).
Cars
Apart from bikes and cycles, Salman has multiple of luxurious vehicles including fancy sedans and sporty SUVs! According to reports, more than 7 vehicles stand in his parking lot including Mercedes Benz GL Class – Rs 80 lakh, a Mercedes Benz S Class – Rs 82 lakh, an Audi A8 L – Rs 1.13 crore, a BMW X6 – Rs 1.15 crore, a Toyota Land Cruiser – Rs 1.29 crore, an Audi RS7 – Rs 1.4 crore, a Range Rover – Rs 2.06 crore, an Audi R8 – Rs 2.31 crore and finally a Lexus LX470 – Rs 2.32 crore. Tired yet?
Private Yacht
In the year 2016, when Salman Khan turned 50, the Bajrangi Bhaijan reportedly bought a private yacht. The private Yacht's estimated costs is Rs 3 crore.
Home – Galaxy Apartment
Everyone knows about Salman's Galaxy apartment. You must have seen Salman Khan greeting fans and having conversation with media at Galaxy apartment. According to reports, Galaxy Apartment is valued over Rs 20 crore today.
Triplex Flat Bandra
Besides Galaxy apartment, he bought the 11th-floor of this uber-luxury apartment complex for more than Rs 30 crore. There are rumors stating that Salman and his family will move to his Triplex Flat Bandra, once its construction completes.
Panvel Farmhouse
Salman Khan often goes to his Panvel Farmhouse to celebrate his birthday. His farmhouse is spread over 150 acre and it has three bungalows, gym, pool, domestic animals, and 5 horses. Yes, you read it right – its big enough to have 5 horses running around the massive property. The farmhouse is valued Rs 80 crore today.
Gorai Beach Home
When Bhai turned 51, he bought 100 acre property – a 5 BHK farmhouse with a gym, swimming pool and a movie watching theatre hall. And that isn't, the property also has a dirt-bike arena where the Bollywood superstar and his friends tussle it out on dirt bikes. The property cost him more than Rs 100 crore.
Being Human
Who does not know Being Human? The clothing brand has become one of the most popular brands of merchandise owned any Bollywood actor. The valuation of the brand is more than Rs 250 crore and Salman Khan is the primary owner of it. According to reports, Salman donates 8% to 10% of the annual profit to various charities.
Salman Khan Films (SKF)
Besides having luxurious house, cars, farmhouse and cycles, Salman has a production house named Salman Khan Production (SKF). Salman Khan's first production venture was Bajrangi Bhaijaan which earned over Rs 900 crore at the box-office. Since then, the actor has produced films like Tubelight (2017), Hero (2015), Race 3(2018) and Loveratri (2018), and Dabangg 3 (2019).
This is the list of most expensive things that Salman Khan reportedly owns.