Pagglait Trailer: Sanya Malhotra On A Journey of Self Discovery In Netflix Drama
Pagglait Trailer: Sanya Malhotra plays widowed woman on the path to self discovery in this Netflix dramedy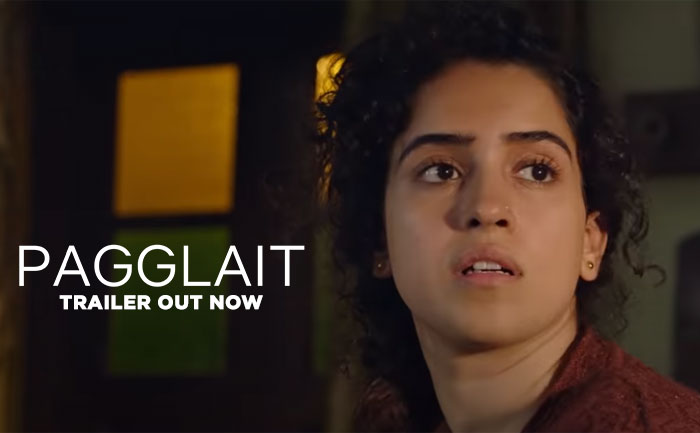 Sanya Malhotra is back with a new adventure in the upcoming Netflix Dramedy Pagglait. The Dangal girl plays a widowed woman on the path to self-discovery in this Netflix film. The movie is a bittersweet reminder of how women are looked upon in this patriarchal society. Pagglait is all about Sanya's character of the recently widowed Sandhya struggling to mourn the death of her husband. Pagglait is the journey of a young widow as she learns how to free her crazy, face the family and find herself.
Watch the quirky trailer here:
The trailer showcases the recently widowed Sandhya on a path of self-discovery. For as everyone around her expects her to mourn, all she can think of is Pani poori and a chilled cola. A sudden windfall in terms of insurance money turns the situation into a game of manipulation.
Her dialogue "Jab ladki logo ko akal aati hai..log unhe pagglait hi kahte hai (when women gain sense, they are called mad)," truly whistles worthy.
Pagglait stars an ensemble cast such as Ashutosh Rana, Sheeba Chaddha, Sayani Gupta, Raghubir Yadav, Natasha Rastogi, Rajesh Tailang, Shruti Sharma, Jameel Khan, Meghna Malik, Ananya Khare, Yamini Singh, Bhupesh Pandya, Chetan Sharma, Aasif Khan, Nakul Roshan Sahdev, Ashlesha Thakur, Sachin Chaudhary and Saroj Singh.
The Netflix film is set to release on 26th March.
Also Read: Love Hostel: Bobby Deol, Vikrant Massey, Sanya Malhotra team up for SRK's thriller