Jyotiraditya Scindia, Digvijaya Singh conspicuous by absence in Kamal Nath's session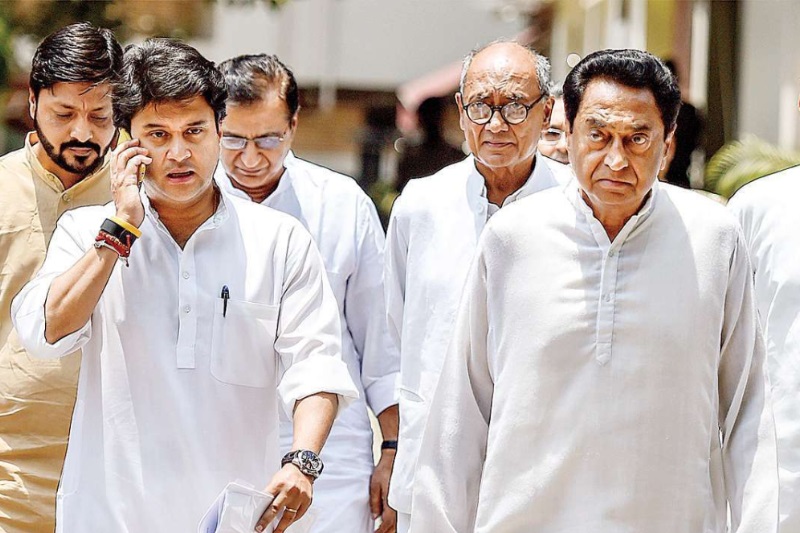 It's needless to say that Congress is divided in Madhya Pradesh which went to state Assembly polls on November 28. A section in the Congress wants veteran Kamal Nath to adorn the Chief Minister's chair while another faction wants to see young Jyotiraditya Scindia as the Chief Ministerial candidate. To add fuel to the fire whether there's any divide in the party, Thursday's tutorial by Congress leader Kamal Nath witnessed missed two heavyweights — Jyotiraditya Scindia and another veteran Digvijaya Singh. Though none of them is drafted into the Congress working committee, very few would believe that as the reason for their absence.
The posters at the Manas Bhavan also depicted a divided house's picture. A poster which said, "Hearty welcome to future ministers and legislators of MP Government" caught everyone's attention and there are no marks for guessing which faction put this poster to convey this message. The poster inside Manas Bhavan also said a bit about the tale on Congress as it had three pictures — Rahul Gandhi, Sonia Gandhi and Kamal Nath.
Jyotiraditya Scindia has not even contested the polls, but his supporters feel that he would be the CM in case Congress wins back the state from BJP. "Scindia ji will be our chief minister; the people of the state want a young face to lead the state…I have already said I'll vacate and resign from my seat, so he can contest," party candidate and legislator Mahendra Yadav said.
Another candidate, Nilesh Awasthi said just the opposite. "We are going to win 145 seats, Kamal Nath ji will be the next chief minister," Awasthi said.
The man at the centre of all the drama, Kamal Nath though maintained a cautious note when asked about the prospective CM face for Congress. "We are going to win 140 seats. Wait for a few more days," said a smiling Kamal Nath. Party which wins 116 of Madhya Pradesh's 230 seats will form the state government.
The ruling BJP also made arrangements of a similar session at current Chief Minister Shivraj Singh Chouhan's official residence on Saturday.
ALSO READ: Yogi Adityanath launches scathing attack on Kamal Nath