Everyone fights shortcomings to fulfill incompleteness: Shah Rukh Khan encourages paralympians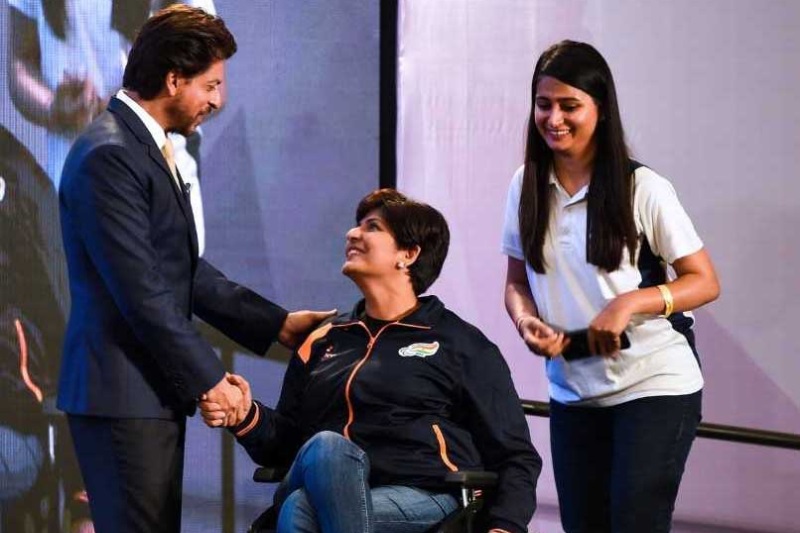 Bollywood superstar Shah Rukh Khan on Wednesday encouraged the Para-athletes, by saying that everyone is incomplete in their own way and all individuals' battle to overcome them.
Khan, who came to wish the Indian Paralympic Contingent for the Asian Para Games 2018 at their send-off ceremony praised the athletes for choosing sports to overcome the weakness in their disabilities.
"We all are incomplete in one way or the other. Sometimes in the physical sense, sometimes we are unable to grow mentally… Even emotionally, there are some shortcomings in each one of us. It is said that God has made us 'like' him but not 'as' him," Khan was quoted as saying by PTI.
"He sent us into the world so that we fight our disabilities and go on to complete our lives. Job, financial stability, stardom, and power do not complete us. We have to fight our shortcomings to fulfill our incompleteness."
Also Read: Saina Nehwal and Parupalli Kashyap to tie the knot in December: Reports
You could have made a name in any other profession but you chose sports "a field which actually makes you feel that you have to overcome all your incapacities, insecurities, smallness and weaknesses and aim for the impossible."
The 54-year-old actor himself wanted to be a sportsman but suffered a waist injury that ended his aspirations.
"At that time, there were not as many medical facilities as there are today," he says. "And we weren't well off that we could afford to go to expensive doctors. But my parents were by my side and used to encourage me a lot saying if one door closes, another one will open."
"I have undergone nine surgeries till date – in the spine, shoulders and the knees, etc. There are some mornings when I'm in pain," said Shah Rukh adding that Deepa Malik's interview encouraged him with the same intensity as it used to when his parents spoke to him.
He further added that there was no invitation, but being in the same city he could not overcome the temptation to come and meet these superheroes. Present in the event were also Rao Inderjit Singh, President of the Paralympic Committee of India, Paralympic medallists Devendra Jhajharia, Mariappan Thangavelu and Varun Bhati and the other members of the Indian Para Asian Games contingent.
Also Read:FIFA Awards: Croatian star Luka Modric bags best male player award
"I am here so that I can snatch that confidence they have… I want to warn the film stars and other people in the industry that you all have made me more hale and hearty for the coming 25 years," he quipped.
"I want that all the youngster, including my three children, learn from you guys about the importance of sports. And not because you earn a gold medal and win in sports but because it is very important for one's personal well-being. Through you guys, I want to tell people that the word 'impossible' holds no significance."
Winning a medal has always been a dream for the athletes and many consider themselves to be lucky to have won so many medals. But according to Khan, the medals will feel lucky that they have been worn around the neck of these brave heroes. "Medals would be lucky to have you and not the other way around," he said as calls for him to be named the brand ambassador for Paralympians echoed in the room.
Image Source: NDTV Sports