Slippers thrown at Kamal Haasan during campaigning in Tamil Nadu
Reports suggest that slippers were thrown at Kamal Haasan while he was campaigning for elections 2019.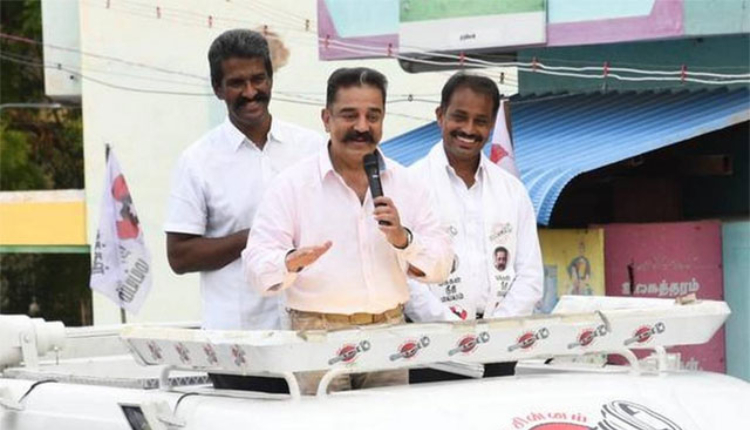 A few days back actor-turned-politician Kamal Haasan made a very controversial statement that "independent India's first extremist was a Hindu", referring to Nathuram Godse who killed Mahatma Gandhi in 1948. On Wednesday evening slippers were thrown at him when he was campaigning in Tirupparankundram assembly constituency in Madurai, Tamil Nadu as reported by PTI.
As per a report in NDTV, eleven people, including BJP workers and members of Hanuman Sena were involved in this act. This happened while he was addressing the crowd but the slippers didn't hit him.
While campaigning in Aravakurichi on May 12, Haasan said, "Free India's first terrorist was a Hindu, his name is Nathuram Godse. There it starts. I'm here to seek justice for that murder. I'll thump my heart and say that I'm a good Indian and any Good Indian will want the country to be peaceful and equal to all. He will always want the tricolours of the national flag to remain the same always."
BJP slammed this remark by the founder of the party Makkal Needhi Maiyam (MNM). But on Wednesday, Mr. Haasan standing by his remark said that what he said was a 'historic fact'. Today his party released a statement that read: "This (his remark) has been taken absolutely out of context and the speech has been painted as anti-Hindu, with a malafide intent. This has created complete confusion and utmost anxiety amongst many common citizens who are not privy to this larger conspiracy."
For more such news, stay tuned to our space.
Also Read: AIADMK Leader Wants Kamal Haasan's Tongue To Be Cut Off For 'First Terrorist Was Hindu' Remark