Smriti Irani Blames Karan Johar Hampers For Weight Gain In Throwback Photo
"Totally blame the damn hampers for the weight gain"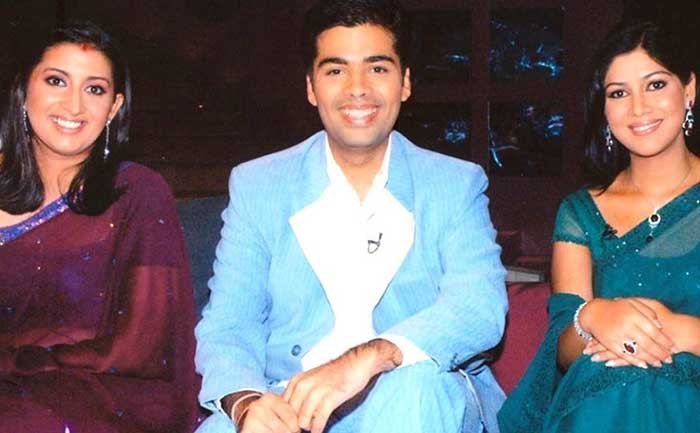 Union Minister Smriti Irani participated in the Throwback Thursday Instagram trend by sharing a 15-year-old photo. The photo was from the actress' appearance on Karan Johar's talk show, Koffee With Karan. The photo also featured Kahaani Ghar Ghar Kii's Parvati aka Sakshi Tanwar. Smriti Irani first appeared on the Karan Johar show Koffee With Karan in 2005.
"POUT MIA alert," the actress turned politician wrote, referring to the filmmaker's famous pout. "Throwback to a time @karanjohar smiled in photos taken." Smriti Irani also joked the Karan Johar gift hampers were the reason for her weight gain. "Notice how slim yours truly was. Totally blame the damn hampers for the weight gain."
The throwback picture featuring Smriti Irani, Karan Johar, and Sakshi Tanwar garnered over 8000 likes within minutes of being posted.
Karan Johar also reacted to the throwback picture. Confirming Smriti's caption, he wrote, "Oh god!!!! That may have been the last time I smiled in a photograph!! and what was I wearing?????"
Fans of Irani were quick to shower their love on the actress. One comment read, "Still rememmber KYUNKI n KAHANI….what a time that was…Nostalgic! Good Morning n Good Day!"
Another person praised her witty captions, "Love your witty quotes," while a third added: "Two women who ruled the prime slot on Indian television. Hats off."
Smriti Irani was last seen on the TV screens in 2013's Ek Thhi Naayka which broadcasted on Like Ok.
ALSO READ: Smriti Irani Takes A Dig At Deepika Padukone Over Visiting The JNU Campus