Sonu Sood Becomes Ambassador Of Delhi Govt's 'Desh Ke Mentor' Program
Sonu Sood becomes the ambassador for Delhi government's 'Desh Ke Mentor' initiative for school children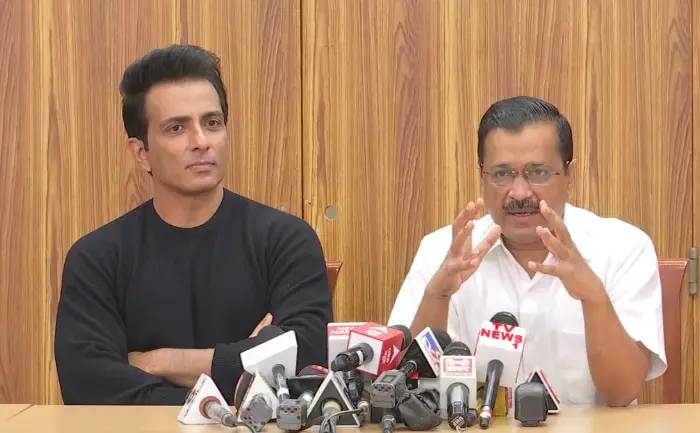 On Friday, Sonu Sood has been appointed as the ambassador for the Delhi government's 'Desh Ke Mentor' initiative for school children. The announcement was made by Chief Minister Arvind Kejriwal in a press conference. The initiative will be launched in mid-September.
"Some of the students in government schools come from very poor backgrounds and there are very few people to guide them. We are appealing to educated people to become mentors for these children. Sonu Sood will be our brand ambassador for the programme," Kejriwal said.
"#DeshKeMentor for the program @SonuSood Get ready to be our Brand Ambassador. He has said that he will also become the mentor of some children- CM @ArvindKejriwal 3 lakh young professionals will guide and mentor 10 lakh Delhi government school students for a bright future!," tweeted AAPDelhi in Hindi.
Check it out:
#DeshKeMentor कार्यक्रम के लिए @SonuSood हमारे Brand Ambassador बनने के लिए तैयार हो गए हैं।

उन्होंने कहा है कि वो भी कुछ बच्चों के मैंटोर बनेंगे- CM @ArvindKejriwal

3 लाख युवा पेशेवर 10 लाख दिल्ली सरकार के स्कूली छात्रों को उज्ज्वल भविष्य के लिए मार्गदर्शन और सलाह देंगे! pic.twitter.com/yThTGeTd32

— Aam Aadmi Party Delhi (@AAPDelhi) August 27, 2021
Sood said, "We have seen the model of governance in Delhi and how the whole school system has witnessed immense growth under that model. It is an honour for me to be the ambassador for such an initiative. There are thousands of school children who are talented but not privileged enough to have guidance, especially at a time when people have started looking beyond medical and engineering studies as the only two major choices. The recent lockdown and the hardships faced by people during the lockdowns highlighted the importance of education of children and the need to help them shape up their careers."
Stay tuned to The Live Mirror for more updates.
ALSO READ: Happy Birthday Sonu Sood: 5 Movies Of The Actor You Must Watch