Bigg Boss 12: Sreesanth slaps Rohit Suchanti, Twitterati demands his eviction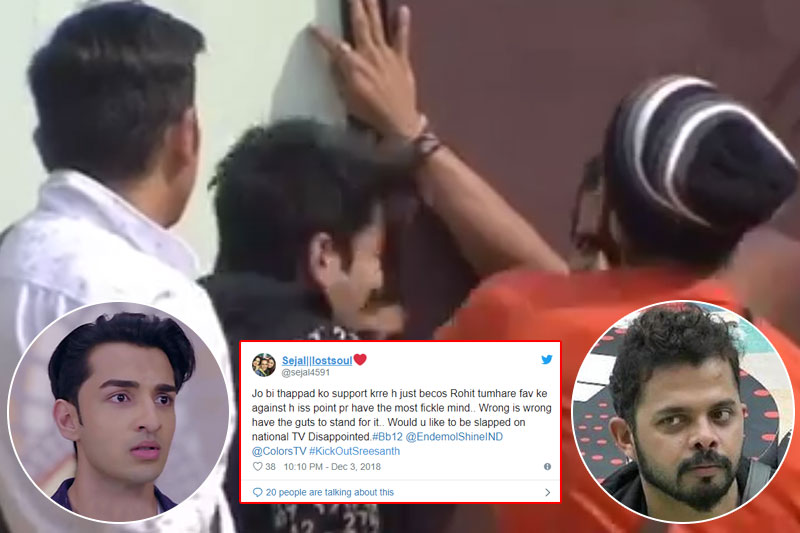 In the current season of Bigg Boss 12, not a single day passes without the inmates fighting with each other. Recently, it was shown that former cricketer Sreesanth has slapped Rohit Suchanti. During a heated argument, Suchanti was seen provoking the former cricketer and eventually Sreesanth lost his cool and slapped Rohit.
In the previous season too, Priyank Sharma had slapped rapper Akash Daldani and was asked to leave the house. Although, he was brought back in the house and apologised for the act.
Watch the video below:
It is still not clear whether makers will take strict action or evict Sreesanth from the house like Priyank as a punishment for getting violent on the house. Rohit Suchanti who was hardly seen during his initial weeks has now become the talk of the town. Be it stealing of ration, irritating Jasleen or provoking Sreesanth, his name is everywhere.
Taking to Twitter, Bigg Boss 3 winner Vindu Dara Singh criticised Sreesanth's act. Although he had his doubts if Sreesanth really hit Rohit. He wrote, "Promos are deceptive and should not be commented upon. But if that slap by Sreeshanth has connected than he is in deep trouble. Such behaviour is also considered as "aggressive" – unless of course if BB has changed the definition of "aggression" #BB12."
Since the video has been aired, Sreesanth was trending on Twitter. Twitterati demanded Sreesanth's eviction from the house.
Take a look at some of the tweets.
Shot of the Season 😂👏 #BiggBoss12 #Sreesanth #RohitSuchanti #BB12 pic.twitter.com/8YX4Lcu3VL

— Kaushalholic (@kaushalian) December 3, 2018
You cannot in any circumstances support or justify violence and it is a reality show so there will be some nuisances but justifying abusive words in any situation is not done. @BiggBoss #KickOutSreesanth

— Annu Singh (@AnnuSin52353641) December 3, 2018
Jo bi thappad ko support krre h just becos Rohit tumhare fav ke against h iss point pr have the most fickle mind.. Wrong is wrong have the guts to stand for it.. Would u like to be slapped on national TV Disappointed.#Bb12 @EndemolShineIND @ColorsTV #KickOutSreesanth

— Sejal||lostsoul❤ (@sejal4591) December 3, 2018
We want justice! Kick out that dangerous psycho!😡 😡😡
Rules are same for everyone!#KickOutSreesanth pic.twitter.com/eUpIiVqFv9

— DiRa'licious_Creationzz💜🤙 (@DiRa_licious) December 3, 2018
What the hell #Sreesanth
You always did over react fir insult anyone#KickOutSreesanth .plssss kick out this psycho @colorstv @TheKhbri @BB12Official @BiggBoss

— Sonia Arora (@SoniaAr15467149) December 4, 2018
Also read: Bigg Boss: Sreesanth talks about Harbhajan Singh's IPL slapping incident