Sri Lanka faces constitutional crisis as president Sirisena sacks Prime Minister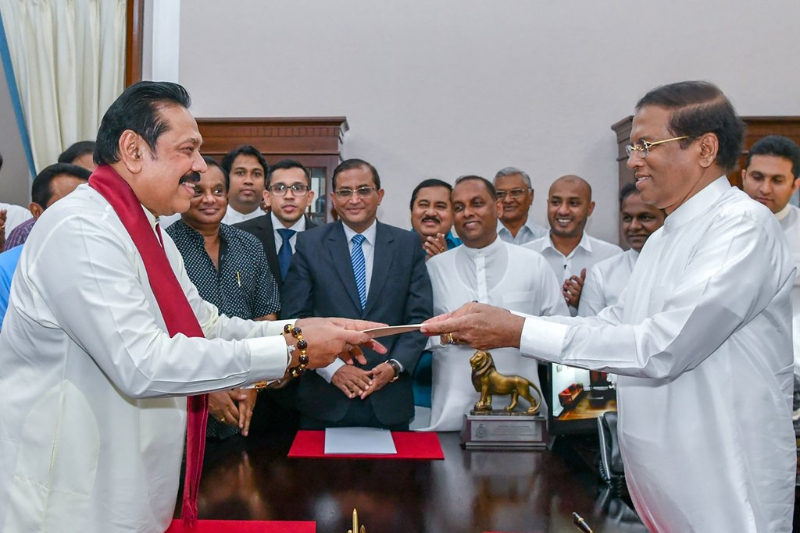 On Friday, Sri Lanka plunged into a constitutional crisis after country's president sacked incumbent Ranil Wickremesinghe, a move that took the nation by surprise and was denounced as illegal by some government ministers.
Sri Lankan President Maithripala Sirisena ousted Prime Minister Ranil Wickremesinghe and replaced him with Mahinda Rajapaksa. Rajapaksa, a popular former leader of Sri Lanka was accused of human rights abuses, brazen nepotism and excessively close ties to China when he had governed the country. The appointment was confirmed in a statement from President Maithripala Sirisena's office.
The sudden development came amid growing tensions between Sirisena and Wickremesinghe on several policy matters and the President has been critical of the Prime Minister and his policies, especially on economy and security.
Meanwhile, Wickremesinghe told local media, "I retain the confidence of the house. I am the prime minister and I have the majority." "According to the constitution, I'm the prime minister. That is not legal," he added.
Sirisena, who was health minister under Rajapaksa from 2010 to 2014, joined forces with Wickremesinghe to defeat the former president in elections in January 2015. He was elected as President, largely thanks to the backing of Wickremesinghe's United National Party (UNP).
But earlier on Friday, Sirisensa's United People's Freedom Alliance (UPFA) had said it would quit the ruling coalition. The developments also bring an end to a coalition government that was formed more than three years ago on promises of economic reform and accountability for alleged atrocities committed during Rajapaksa's 10-year rule at the close of Sri Lanka's bloody civil war.
Also Read: #MeToo: Indian air hostess accuses Sri Lanka's Arjuna Ranatunga of sexual misconduct