Sriram Sene to raise funds for Gauri Lankesh's alleged assailant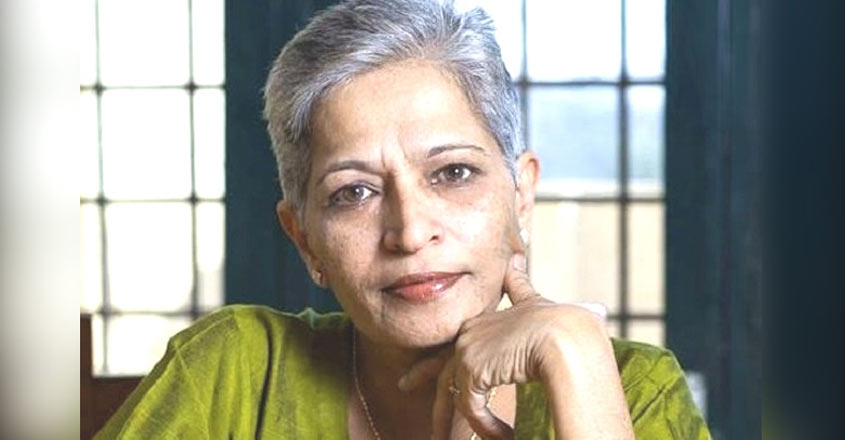 Parashuram Waghmore, the alleged shooter of Gauri Lankesh, confessed before the police that he killed the acclaimed scribe on September 5, 2017.
Waghmore confessed in the police car ten minutes after he was arrested in Sindaghi, Bijapur. He also told the police that he knew that someday he would be arrested in the case. Sources said that Waghmore was hired to kill Gauri and had been training on an air rifle for months. Soon after his arrest, his picture with Sriram Sene chief Pramod Muthalik went viral. However, Muthalik denied knowing Waghmore.
Now, the Sri Rama Sene's Facebook page, has started a fundraising campaign for Waghmore's family. "Can you not share a portion of your earnings, a morsel of your food with patriots? Parashuram Waghmore's family is in a financial crunch. Please help them by donating money," the post says. The post comes with a photograph of Parashuram Waghmore along with an account number to which people have been requested to donate money. Manchaleshwari Tonashyal, the Women's Wing Chief of the Sene and a member of the BJP's Yuva Morcha has also put up an alarming post on Facebook.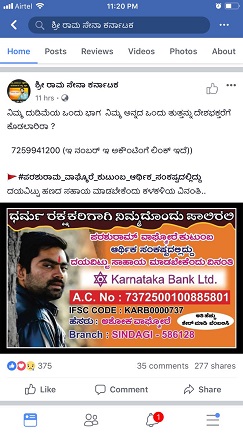 "There will be a Parashuram Waghmore born in every house if anti-Hindu activities continue to be carried out by elements who are trying to sabotage the foundation of Hindutva in this country," her Facebook post reads. According to a report in The News Minute, Pramod Muthalik, said that Manchaleshwari was not a part of the Sri Rama Sene any longer and was now working for the BJP. "Manchaleshwari left the Sene and joined the BJP a few years ago. The fund-raising is for a family which is suffering financially. It is being done only because members of the Sene are sympathetic towards a poor family. It is not being done at the behest of Parashuram Waghmore," Muthalik said. Asked what would happen if the police slapped cases against him for provoking youngsters to take up aggressive Hindutva, Muthalik said he is ready to face any such case, while adding he is not "directly linked to this case".
Meanwhile, the SIT probing the case has allegedly procured a confession from Waghmore. Sources in the SIT say that the Waghmore had allegedly gone to kill Gauri Lankesh a few days prior to September 5 but could not carry out the task as the journalist was already inside her house. "Gauri Lankesh was killed on September 5 but Parashuram Waghmore was picked up by an unidentified man and dropped off near Gauri's house a few days before September 5. This was supposed to be the day he was assigned to shoot at Gauri but the plan was unsuccessful. On the night of September 5, however, a different man is said to have picked up Waghmore from his home and given him the weapon. Waghmore, up on reaching her residence called out to her. When she looked back, he took the shot," the source added.
Now, the SIT is on the lookout for three more suspects including Nihal alias Dada, who was one of the men who handed over the weapon to Waghmore.