2-year-old Sujith Wilson's body recovered from borewell after 80 hours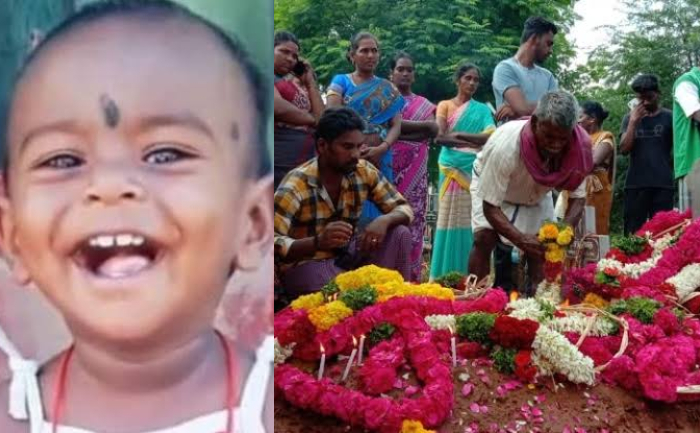 Two-year-old Sujith Wilson had fallen in an abandoned borewell close to his house on Friday. Various central and state agencies were called in to rescue him. Earlier on Monday, a heavy German-made drilling machine was deployed to dig a parallel shaft to reach the boy stuck at a depth of 88 feet. But the rescue efforts were hampered by the incessant rain and the rocky soil. Finally, after 80 hours of resue operations, help reached the boy but he was no more.
The body of the two-year-old was recovered after three days and it was dismembered" and in a "highly decomposed" state.
Relatives grieve and hundreds come to the final resting place to say their final goodbyes to Sujith. @thenewsminute pic.twitter.com/8Vpjar7jfG

— priyankathirumurthy (@priyankathiru) October 29, 2019
"Don't worry my child we will get you out. Amma is here", said 28-year-old Kala Mary to her son Sujith on October 25 as he yelled out in fear from a 600 feet borewell in Trichy district. These were the last words she spoke to her son whose only assurance as he was stuck deep in the pit was his mother's voice.
The country was praying for Sujith's recovery from the pit, even PM Modi extended his prayers with a tweet,
My prayers are with the young and brave Sujith Wilson. Spoke to CM @EPSTamilNadu regarding the rescue efforts underway to save Sujith. Every effort is being made to ensure that he is safe. @CMOTamilNadu

— Narendra Modi (@narendramodi) October 28, 2019
Sujith was buried in a cemetery in Pudur leaving behind his inconsolable parents and a brother who is still waiting for him to return home.
A sad end to a young life who had much to see yet. When will the government make strict rules for the abandoned borewells that are like death pits for the young?
Also Read: Two-year-old falls into 26 feet-deep borewell in Trichy, rescue operations on