India seal semi-final spot with 5-4 win over Australia in Sultan of Johor Cup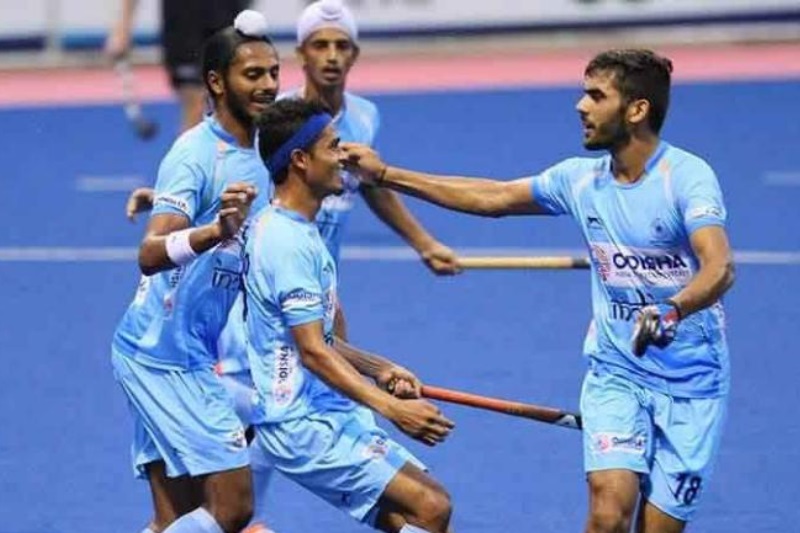 India junior men's hockey team extended its unbeaten run to four matches following the 5-4 victory over defending champions Australia at the Sultan of Johor Cup in Johor Bahru, Malaysia, on Wednesday.
India's fourth successive victory in the competition not just helped them top the pool stage but also assured them a semi-final berth.
Gursahibjit Singh (5th minute), Haspreet Singh (11th), Mandeep Mor (14th), Vishnukant Singh (15th) and Shilanand Lakra (43rd) scored the goals for India. Damon Steffens scored a hat-trick for Australia but failed to carry his team over the line.
Last edition's bronze medallist, India, started well and had their first chance of scoring through a penalty corner but failed to convert. It though mattered little as Gursahibjit gave his side the lead as early as the fifth minute.
Capitalising on a good start, India then scored three more in five minutes to go 4-0 up at the end of the first quarter. Haspreet scored the second in the 11th minute before skipper Mandeep and Vishnukant added to the tally within a minute of each other.
Also Read: 2018 Youth Olympics: Saurabh Chaudhary wins gold in 10m Air Pistol
Their lead was, however, cut short to two goals at the end of the third quarter. Steffens first scored from a penalty stroke in the 18th minute, before adding a second through a penalty corner in the 35th minute after an Indian defender conceded a foul inside the circle.
But Shilanand ensured the lead was increased to three goals again with 17 minutes of play remaining on the clock. With the scoreline 5-3 and with time running out, Australia peaked their tempo and went all out for the equalising goals. But the Indian defence that had conceded just twice prior to this match was at its best denying the opponent any shot at goal.
The only time they conceded again was from another penalty stroke with one minute remaining. It was converted by Steffans, who completed his hat-trick albeit in a losing cause.
India had earlier, mauled New Zealand 7-1 in their opening match of the competition, before seeing off Malaysia (2-1) and Japan (1-0) in their next two matches. They will face Britain in their fifth pool stage match on October 12.
Image Source: India Today