Sushant Singh Rajputs month anniversary Ankita Lokhande prays for 'child of god'
Ankita Lokhande lights up a diya for Child Of God Sushant Singh Rajput; on one month death anniversary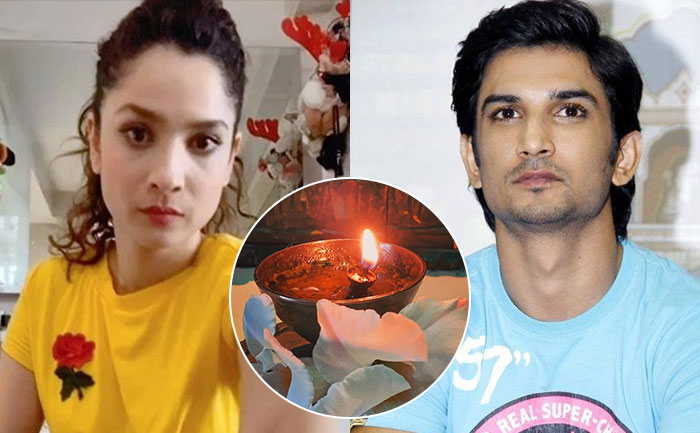 Sushant Singh Rajput left for his heavenly abode on June 14. His alleged suicide on June 14, 2020, shook the film fraternity, his fans, and family. It has been a month since the Rabta star's demise but fans and family are still unable to accept he has left them all.
Former girlfriend Ankita Lokhande has been missing from social media ever since SSR's demise. She has been mourning in private. On the late actor's first death anniversary, Ankita remembered Sushant by lighting a small 'diya' (lamp) with flowers in front of her house temple. She did not mention his name but called him to be the "Child of God."
Ankita took to her Instagram account to share a picture of a Diya that is surrounded by white flowers. The caption read, "CHILD Of GOD 😇(sic)"
Check out her post here:
This is for the first time that Ankita has posted anything about Sushant ever since Sushant left for heavenly abode.
Sushant Singh Rajput and Ankita Lokhande, starred together in the hit serial Pavitra Rishta. The duo fell in love on the sets and was in a relationship for over five years. They broke up in 2016. Ankita was seen with producer Sandip Ssingh at Sushant's home to visit his family after Sushant's death. She looked devastated.
Sandip had shared how shattered Ankita was on SSR's demise. He had stated she was not in a condition to speak after the news of Sushant's death.
The 34-year-old actor's last film will be 'Dil Bechara' co-starring Sanjana Sanghi.
Also Read: Rhea Chakraborty pens a note for Sushant Singh Rajput: You made me believe in love