Sushma Swaraj meets Antiguan counterpart, discusses Mehul Choksi extradition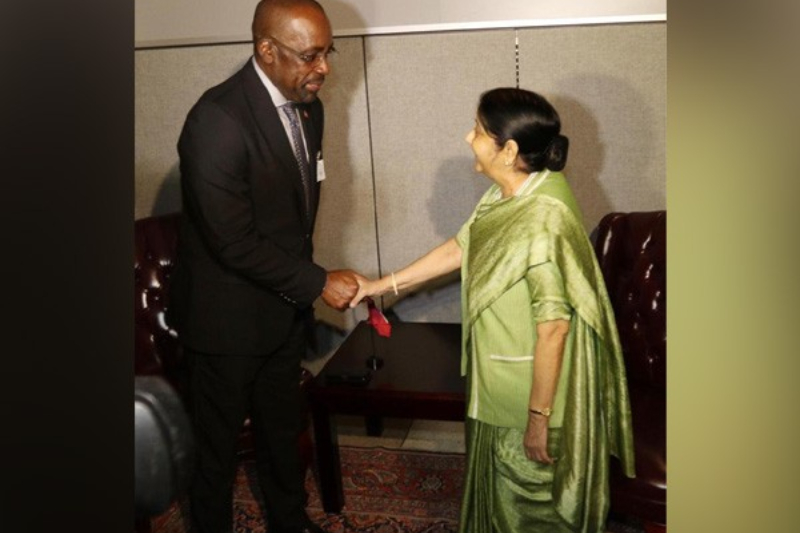 India's foreign minister Sushma Swaraj met with her Antiguan counterpart on Wednesday on the sidelines of the United Nations General Assembly (UNGA). During her meeting, she spoke about the extradition of Mehul Choksi, who has been accused of Rs 14,000 crore Punjab National Bank fraud.
The Antiguan minister has assured Ms Swaraj of all co-operation but said there are some "legal angles and court procedures", which he will first "examine".
The spokesperson of the foreign ministry Raveesh Kumar said, "The External Affairs Minister had requested him that quicker the matter is resolved, the better it is. Her counterpart replied that they're trying their best, he said there are some legal angles and court procedures, which they'll examine but he expressed the commitment of his Prime Minister and government before Sushma Swaraj."
According to the report, the foreign ministry has submitted a 720-page document to the Antiguan minister and said that he could not commit to the time frame, as the matter is now in the court.
"The executive does not control the judiciary. So, I would not like to answer your question about the time frame. However, I can tell you that we have received the documents from the Indian government. Meanwhile, as reported earlier, Mehul Choksi's lawyers have gone to the court and this matter is now sub-judice and as such we have to wait for the outcome of legal proceedings before anything can happen," Greene quoted by India Today as saying.
While in her bilateral meeting, Swaraj conveyed to Mr Greene that India has an immense expectation regarding Mehul Choksi's extradition since he fled the country.
Meanwhile, a special court on Wednesday has asked Mehul Choksi to file hile reply before October 30, seeking to declare him a "fugitive" under a new law.
Also read: Sushma Swaraj: For Indians stuck anywhere, help just a tweet away