Saif Ali Khan Enjoys Giving Taimur Ali Khan Piggyback Ride On His Back – View Pics
Taimur Ali Khan enjoys a piggyback ride on father Saif Ali Khan's back after his gym session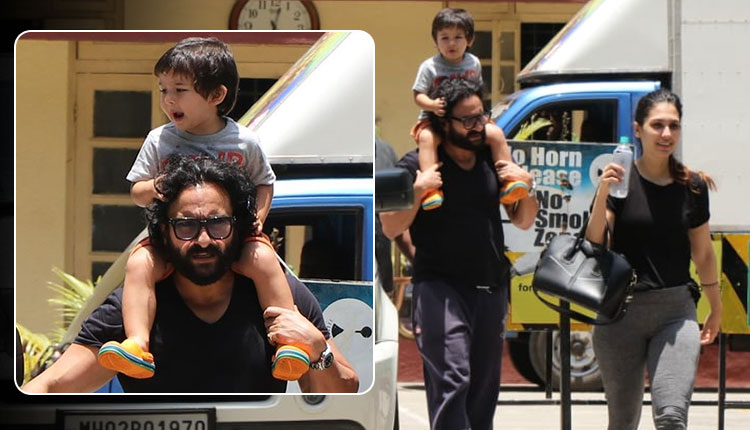 Taimur Ali Khan — son of Bollywood actors Saif Ali Khan and Kareena Kapoor — has been a social media star since he was born. The little munchkin has always been in the news for his stylish appearance. Taimur Ali Khan was recently spotted after his father Saif Ali Khan was coming out from his gym after his workout. Today, Taimur seemed that he was in the mood of the piggyback ride and once again dad could not refuse him.
In the photos, Taimur can be seen sitting comfortably sitting on his father's shoulder while Saif is seen enjoying giving him a piggyback ride. Saif is seen sporting a black tee with grey bottoms and sneakers while Taimur donned a grey tee with red shorts and orange shoes.
Earlier in an interview with HT Brunch, Saif had mentioned that Taimur is more media savvy than Kareena and him. Saif expressed that Taimur has found a new game which he plays inside the house. He mentioned that Taimur pretends to be 'media wale' or paps and goes around the taking pictures. When he takes a picture, Taimur does a sound which is similar to the noise "khichik khichik khichik' which a camera makes when a photo is clicked.
Kareena Kapoor was recently interviewed by film critic, Rajeev Masand. Bebo had told him, "He's a terror, he's very naughty, and he's exactly like his father. Now he's going through this phase where everything is 'Mama don't laugh, Mama don't cough, anything you're doing Mama don't do this.' Because we are like Taimur don't do that, so he's picking up and telling us."
Taimur Ali Khan enjoys a piggyback ride on daddy Saif Ali Khan's back
Also Read: Taimur Ali Khan To Act In A Film? Read What Punit Malhotra Has To Say