Tamil Nadu and Kerala face-off over water levels in dams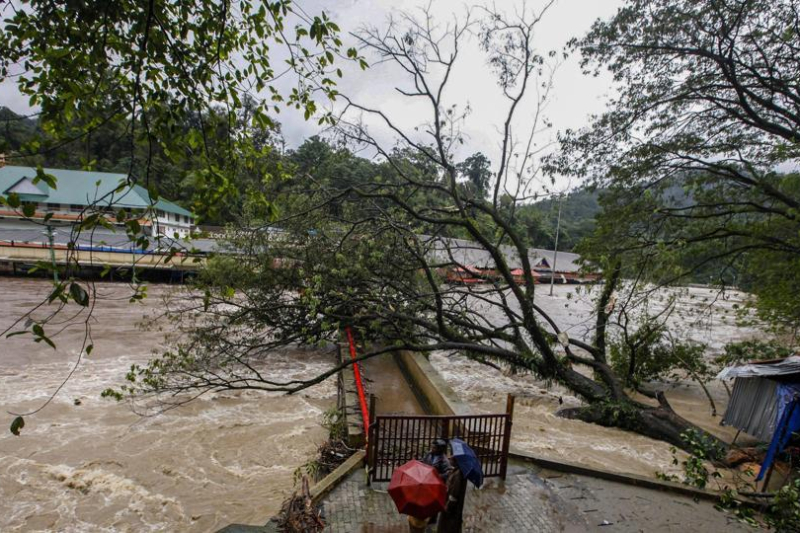 Kerala's flood woes don't seem to be ending anytime soon. While the state is on red alert and rescue operations are underway for helping several stranded people, the Tamil Nadu government has played truant. A source informs us, " Tamil Nadu doesn't care about human lives. They have released water from dams without warning."
The water flow into the Poringalkuthu reservoir in Kerala from the Parambikulam and TN Sholayar dams resulted in the Chalakudy river overflowing and the town flooding.
Sudheer Padikkal, deputy director of the Joint Water Regulatory Development Board (JWRDB), who represents Kerala in the inter-state river sharing talks with Tamil Nadu, spoke to New Indian Express: "As per the operation plan, Kerala had asked Tamil Nadu to maintain the water level in the Parambikulam dam at 1,824.5 feet and in the Tamil Nadu Sholayar dam at 3,293.3 feet to ensure a controlled release of water into the Kerala Sholayar and Poringalkuthu reservoirs located downstream, which were already full. The Full Reservoir Level of the Parambikulam dam was 1,825 feet. As the inflow to Parambikulam and Tamil Nadu Sholayar dams increased, the water was released into the Poringalkuthu reservoir and on to the Chalakudy river."
Kerala CM Pinarayi Vijayan expressed concern and spoke to the media, " 80 dams have been opened and over 324 people have died in the floods."
Expressing grave concern over the flood "crises" in Kerala, the Supreme Court on Friday suggested that the Disaster Management sub-committee, National Crisis Management Committee (NCMC) and the court-appointed committee should meet to explore the possibility of reducing the water-level in the Mullaperiyar Dam reservoir there to 139 feet.
A bench of Chief Justice Dipak Misra and Justice D.Y. Chandrachud said: "We are not experts. We are leaving it to the committee… to bring down the water level to 139 feet from 142 feet at the Mullaperiyar Dam", as the the Centre informed it that the sub-committee has decided to reduce the water level by releasing it.
Also Read: Kerala floods: Heavily pregnant woman airlifted as massive rescue underway