Tamil Nadu groom gets 5 litres petrol as wedding gift, check reactions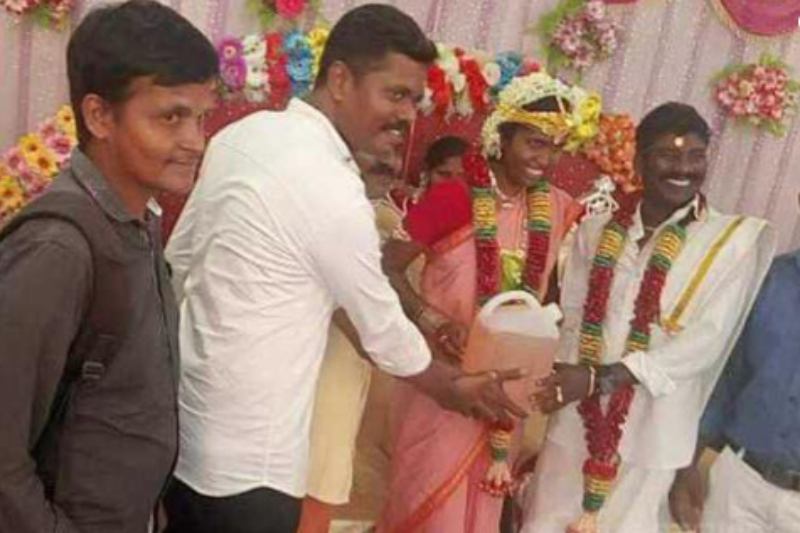 Amid escalating fuel prices in the country, a Tamil Nadu groom received five litres of petrol in the form of his wedding gift from his friend. The fuel prices in India continue to rise each passing day and petrol is considered to be one of costlier things in any part of the country. 
The incident of giving five litres petrol as a wedding gift took place in Cuddalore, as reported by Tamil television channel Puthiya Thalamurai. The picture of the young couple along with the gift went viral on social media and created a lot of buzz.
According to the report, when the newly wedded couple was greeting guest at a marriage hall, a friend of groom came and gave them petrol in a five-litre jar as a wedding gift. 
Amid laughter all around, the man received it, a 39-second video clip telecast by the channel showed. Petrol prices in Maharashtra touched Rs 90 mark while it touched Rs 85.15 per litre in Tamil Nadu. "The fuel symbolised a commodity worthy of being given as a gift," his friends was quoted as saying.
The story earned hilarious reactions from people on Twitter. People are calling it "Memes turned into reality." Here are some of the many tweets about this story.  A Twitter user called it, one of the costlier gifts indeed while another wrote the newlywed's couple were probably happier because of the gift.
Check out some of the reactions here:
Me- Happy Birthday Swty

He- Thanks love! Gift?

Me- Ye le 2 Liter Petrol

He- pic.twitter.com/ZquGllLXNb

— Tweet Chor? (@Pagal_aurat) September 13, 2018
Oh Godse…! Petrol as marriage gift. So costly pic.twitter.com/bbKzk5z7Oa

— Das Capital (@niravuparambil) September 16, 2018
Petrol makes a good wedding gift these days. Look at how happy the groom and bride are. ? #PetrolDieselPriceHike pic.twitter.com/a7DxK91IWZ

— Prashanth Venkataramana (@prashanthramana) September 17, 2018
In other news:
Groom's friend gifts him 5 litres of petrol on wedding ??

— raghavendra (@raaghuvkin) September 17, 2018
Memes become a reality. Couple recieves 5 litres of petrol as marriage gift. #AccheDin https://t.co/hBk4ZlVt5u

— Ruchira Chaturvedi (@RuchiraC) September 16, 2018
5 Litre petrol as a Marriage gift, costlier gift indeed ? pic.twitter.com/UeDBHAdnnB

— Hari Prabhakaran (@HariIndic) September 16, 2018