Tanishq Reportedly Withdraws Its Ad After Getting Massively Trolled For Hurting Religious Sentiments
Jewellery Brand, Tanishq Gets Massively Trolled On Social Media For Their Religious Based New Ad. The Brand Has Reportedly Withdrawn Ad Video Soon After Receiving The Outrage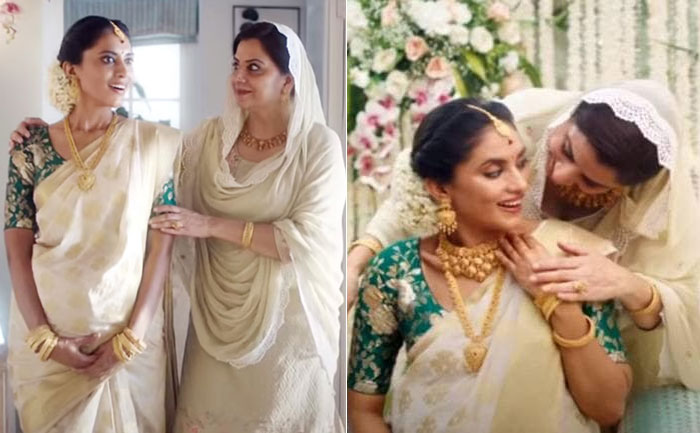 Renowned jewellery brand, Tanishq released its new ad video set in the backdrop of caste differences. The ad garnered a massive outrage on social media. After getting trolled on the lines of glorifying 'love jihad'. The Titan Ltd owned jewellery brand has apparently pulled out the ad from its current campaign 'Ekatvam'.
The ad was released on all social media platforms and the video was of 45-second. It featured a Muslim family, who could be seen celebrating baby shower ceremony as per Hindu Rituals to make their pregnant daughter-in-law happy. A section of society was seen condemning the ad and posted about boycotting the brand. But many others were seen pushing their posts against the boycott trends.
Here, check out the ad video below and the reactions of the netizens:
Tanishq has officially withdrawn their ad after being trolled viciously. Here's why this is a very sad state of affairs, and context from other such ads that were trolled (and some, withdrawn) https://t.co/Nb0cSiTPHX pic.twitter.com/sn3IMBqdmC

— Karthik (@beastoftraal) October 13, 2020
Why are you showing a Hindu "daughter in law" to a muslim family and glorifying it?

Why dont you show a Muslim daughter in law in your ads with a Hindu family?

Look like you are promoting #LoveJihad & favouring a particular Faith only…#BoycottTanishq

— khemchand sharma #IStandWithFarmersBill (@SharmaKhemchand) October 12, 2020
Why in all the so called "United" videos, only the man happens to be Muslim? I've never seen the bride as Muslim and the Hindu groom!#BoycottTanishq pic.twitter.com/3pu823DIl0

— प्रज्ञा वैद्य (Pragya Vaidya) (@pragyavaidya03) October 13, 2020
People are trending #BoycottTanishq as if they buy jewelry from them on daily basis.

— Sandeep Singh (@sandeep90s) October 12, 2020
It's really sad to watch what kind of country we are turning into. An ad uniting two religions has to be taken down in the country which used to be called secular since forever.🤦🏻‍♀️#tanishq pic.twitter.com/8E7UDl7PeH

— Nilesh Chhanga (@ChhangaNilesh) October 13, 2020
Those boycotting the Tanishq ad don't like seeing daughter in law(s) happy around mother in law's. You have seen too many soaps & too much prime times news.

— Abhishek Singhvi (@DrAMSinghvi) October 13, 2020
For all the latest news and gossips, stay hooked on to The Live Mirror.
Also Read: Deepika Padukone's 'Mangalsutra' Cost Will Boggle Your Mind