Telangana CM K Chandrashekhar Rao visits PM Modi, discusses state issues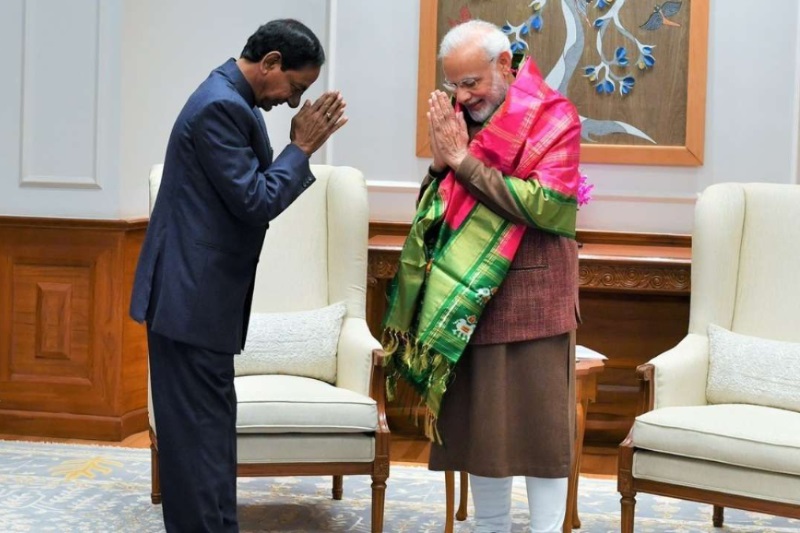 Taking a break from his mission to build a federal front against the BJP and Congress, Telangana Chief Minister K Chandrashekhar Rao on Wednesday met Prime Minister in the national capital.
The meeting reportedly involved discussing several issues including the release of funds for 10 backward districts, the setting up of a high court in the state and an IIT in Karimnagar.
This was also the first time KCR was meeting the PM after becoming the state CM for the second time with a landslide victory in the recently concluded assembly elections. Rao had appointed his son KT Rama Rao as the working party president after declaring that he would venture into national politics.
Rao had also earlier met Odisha CM Naveen Patnaik and West Bengal chief Mamata Banerjee as part of his tour to build a national third front. He is also expected to meet Bahujan Samajwadi party president Mayawati and Samajwadi party's Akhilesh Yadav later in the week in Delhi.
But both the BSP and SP chiefs are yet to confirm their support to the projected third front. While Akhilesh has praised KCR's efforts to build the front, he is yet to meet the Telangana chief and has informed that he will meet KCR after January 6.
Meanwhile, Telegu Desam president Chandrababu Naidu had met Mamata last month to discuss taking on the BJP at the 2019 Lok Sabha elections. Although both KCR and Naidu are not on good terms, they will fight together against the BJP-led National Democratic Alliance.
KCR, who is involved the most in bringing everyone together for the third federal front, has maintained a distance from both Congress and BJP and although his party supports the latter at the centre, he remains adamant that they will fight the 2019 elections independently.
Speaking on Rao's decision to visit the PM, the Congress said that the TRS leader's soft corner for BJP will divide the opposition vote.
If you (Rao) are going around and trying to create a third alternative then you are dividing the opposition vote and paving the way for 'Modi Sarkar' to continue," Congress leader Rajeev Gowda was quoted as saying by The Hindustan Times.
Also read: Chidambaram questions PM Modi-led centre on why GST goals are changing