The Girl On The Train Hindi Remake: Parineeti Chopra Reveals Her Intriguing First Look
In the first look of The Girl on the Train, Parineeti Chopra is bruised, scarred and holds a startled expression.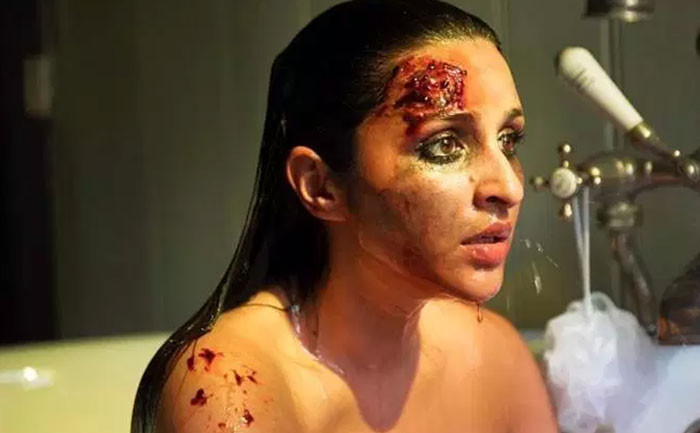 Bollywood actress Parineeti Chopra — who was last seen in Hindi film Jabariya Jodi — has recently started shooting for her upcoming film, which is a remake of an American mystery thriller drama, The Girl on the Train. Days after kicking off shooting in London for the Hindi remake of The Girl on The Train, Parineeti Chopra has finally shared the first look of her from the movie.
In the intriguing first look, Parineeti Chopra is bruised, scarred and holds a startled expression. The first look of Kesari actress will surely send some chill down your spine. Notably, Parineeti Chopra will be playing the role of an alcoholic woman who rides a train aimlessly after losing her job and marriage. In the original version, the role was played by Emily Blunt.
Sharing the first look of The Girl on the Train. Parineeti wrote on Instagram, "Something I've never done before. And the most difficult character I have ever played in my life.? #FirstLook #TheGirlOnTheTrain @reliance.entertainment @sarkarshibasish @amblin."
For the unversed, The Girl on the Train, featuring Emily Blunt, was an official adaptation of Paul Hawkins bestseller of the same name. The Hindi remake of the film is being directed by Ribhu Dasgupta, who told Mumbai Mirror, "It's a turning point in the narrative and will really surprise you. We have been shooting here for the last 15-20 days, almost 16 hours a day, and I have to say that Parineeti has a lot to offer, her talent is still untapped."
He added, "We have chosen a colour palette of black, grey, brown and deep green for Parineeti, with a focus on her dialogue delivery and body language."
Earlier speaking about the film, Parineeti had said, "Emily's performance is a super reference point for me. She has brought to life a character from paper and she was a genius at it. I will try to add my own rendition to the character that people have seen and loved so much. As an actor, I have always wanted to challenge myself and enjoy acting. This role gives me an opportunity to do just that and showcase my versatility even more. I hope it will be interesting for people to see how Emily and I performed the same role with our individual uniqueness."
The film is expected to hit the theatres in 2020.
Also Read: Parineeti Chopra Reveals Her Marriage Plans; Details Inside