The Undertaker And Shahid Afridi Gets Compared With Dawood Ibrahim On Fake Death Reports
Dawood Ibrahim Is Death? Netizens Compare The Undertaker And Shahid Afridi To The Goon After His Multiple Fake Death Reports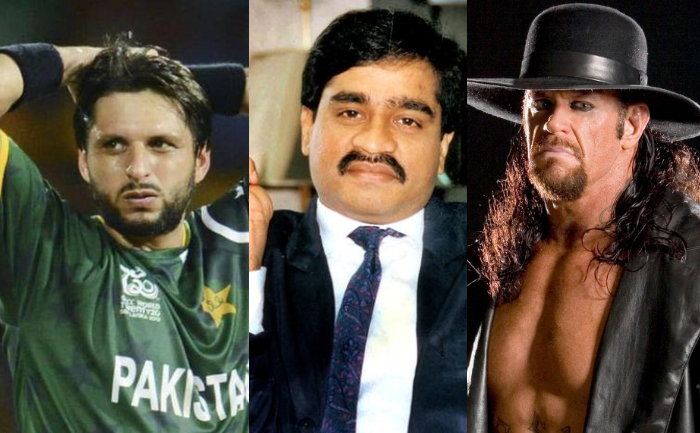 India's most wanted goon, Dawood Ibrahim is currently making headlines for the reports of him getting infected by COVID-19 virus. Few reports stated that he breathed his last at a hospital in Pakistan, however, there was no official confirmation to these reports. On the other side, a report in IANS today quoted his brother, Anees Ibrahim denying the rumors of his brother being infected by the Coronavirus and stated that his family is all right. While Dawood trends on social media for his death rumors, The Undertaker and Shahid Afridi gets dragged in the trends after netizens compared the two with him (Dawood).
The rumors of Dawood suffering from COVID-19 became the talk of the town all across on social media. On the other side, The Undertaker and Shahid Afridi also were dragged in the trends after netizens post about comparisons with their death fake death reports.
The WWE legend, The Undertaker is probably the only person to die several times and he came back. Thus, netizens compared him with Ibrahim, as he is also the person whose death reports have been viral too many times. On the other side, Shahid Afridi was dragged in the trends by netizens, as is the only player who made his comeback several times after quitting the game.  However, the cricketer finally quit international cricket in the year 2017.
Here, you can take a look at some of the tweet posts on comparisons:
#DawoodIbrahim #Dawood
Congratulation to Dawood he beat undertaker. In maximum no of death pic.twitter.com/bthKbaEZVo

— Simran (@simran4_you) June 6, 2020
Is this the 5th or 6th time he has died in the last few years? https://t.co/lR7cGTWDPO

— Sumanth Raman (@sumanthraman) June 6, 2020
Dawood has died more times than Shahid Afridi has retired.

— Vipul Goyal (@HumorouslyVipul) June 6, 2020
Meanwhile Undertaker to Dawood.#DawoodIbrahim #Dawood pic.twitter.com/onFsWX0pgv

— Sajal Das (@Sajal_Das25) June 6, 2020
For more such updates, stay hooked on to The Live Mirror.
Also Read:  Amidst The Death Reports, Dawood Ibrahim's Brother Reveals That He Is Fine And Denies COVID-19 Rumors?