The Witcher 3: How To Get Every Gwent Card For Collect 'Em All
Gwent is an optional card game available in The Witcher 3: Wild Hunt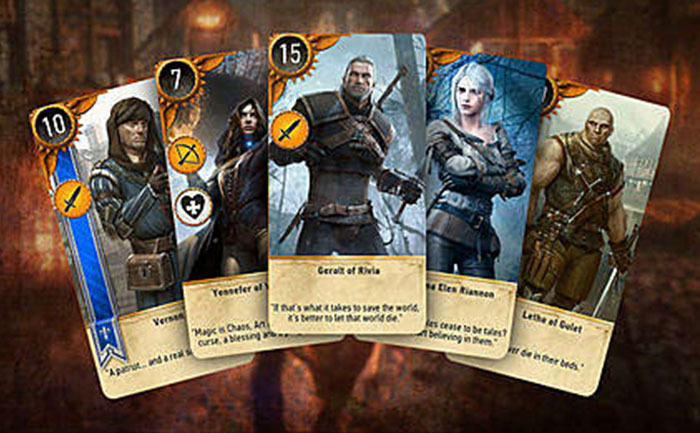 The Witcher 3 is an immensely popular game and players are always trying to improve their deck with better Gwent cards. The Witcher 3 has a Collect 'Em All quest that has players running around to collect every Gwent card available. Gwent Cards can be collected three ways in The Witcher 3 and players will need to combine the three to get a full-stack.
How To Get All The Gwent Cards In The Witcher 3
Buying Gwent cards from Vendors in The Witcher 3
One of the easiest ways to collect Gwent cards is to buy them from the vendors in the Northern Realms of Witcher 3. Players can revisit the vendor's store to see if they can purchase duplicate cards. Multiple cards can be quite helpful when going for rare cards. However, if players are unable to get their Gwent Cards from the White Orchard innkeeper, they can get their cards from the merchants by the bridge.
Listed below is every vendor players can visit to acquire Gwent cards in The Witcher 3.
White Orchard, Innkeeper
Velen, Innkeeper, Inn at the Crossroads
Velen, Trader, Crow's Perch
Velen, Quartermaster, Crow's Perch
Velen, Trader, Midcopse
Velen, Trader, Claywich
Velen, Trader, Lindendale
Novigrad, Olivier (innkeeper), Kingfisher Inn (Missable)
Novigrad, Marquise Serenity (innkeeper), Passiflora
Novigrad, Innkeeper, The Golden Sturgeon
Novigrad, Trader, Seven Cats Inn
Novigrad, Innkeeper, Cunny of the Goose
Oxenfurt, Stjepan (innkeeper)
Skellige, Innkeeper, Kaer Trolde Harbour
Skellige, Innkeeper, Urialla
Skellige, Innkeeper, Arinbjorn
Skellige, Innkeeper, Svorlag
Skellige, Innkeeper, Harviken
Completing Gwent quests
There are several Gwent quests that can provide the players with Gwent Cards that can't be found anywhere else in The Witcher 3. Many of these quests are missable or non-repeatable but there are alternative ways to attain these cards. In other words, players can track down the card by selecting the Gwent quest and following the waypoint to its location. However, players can miss out on a few cards if they fail to win a tournament during the quest A Matter of Life and Death.
Gwent: Playing Innkeepers
Activated after the tutorial match in White orchard.
Battle Stepjan at the Alchemy Inn in Oxenfurt.
Players can also play the unnamed Barkeep at the Inn at the Crossroads.
Olivier at the Kingfisher Inn in Novigrad can also be battled to get Gwent cards in The Witcher 3.
Platers need to complete this quest before secondary quest Now or Never or these options become unavailable.
Nilfgaardian Nobleman
Nilfgaardian Nobleman rewards players with unique Gwent cards that cannot be found elsewhere in The Witcher 3. In addition, players can come back to the palace and defeat him anytime.
Gwent: Velen Players
Check the notice board in Crow's Perch.
Battle the Bloody Baron at crow's Perch.
Complete this before the conclusion of Family Matters as the Baron leaves his castle then.
If Players fail to complete it, they can search his rooms after Return to Crookback Bog to find his card.
Players can also battle The Old Sage at Beken.
In addition, the Boatmaker at Oreton is also available for battle.
Lastly, there is the prodigy Haddy at Midcopse.
It's not difficult to find these Velen Players as each one will point you to the next's location.
Gwent: Big City Players
Receive the quest by playing Gwent with Vimme Vivaldi.
In addition, players can also check notice boards around Novigrad.
Battle Vimme Vivaldi at the bank in Novigrad.

There are three other Big City players including Marquise Serenity at the Passiflora in Novigrad.

Sigismund Dijkstra is available for battle in the Bathhouse in Novigrad

There's also the Scoia'Tael Trader in the camp near Lucian's Windmill.

Complete the quest before Reason of State.
Gwent: Old Pals
Challenge Zoltan Chivay or Vernon Roche to receive this quest.
Battle Zoltan Chivay at the Thyme and Rosemary in Novigrad after reporting to him during Broken Flowers.
Vernon Roche can be found to battle at the Temerian Partisan Camp outside Novigrad.
However, Vernon may be absent during such as A Deadly Plot and An Eye for an Eye.
Lambert can be tracked down either in The Nowhere Inn during Pulling the Thread or at Kaer Morhen.
Players can find Thaler either during A Deadly Plot or at the Seven Cats Inn thereafter.
Complete this quest before The Battle of Kaer Morhen and Reason of State.
Gwent: Skellige Style
Challenge Crach an Craite or Ermion to receive this quest.
Similar to the other quests players will need to battle different players in different locations.
Crach an Craite can be found at Kaer Trolde.
Meanwhile, Ermion can be traced to Kaer Trolde or Gedyneith
Players can find Sjusta the Tailor (barber) at Kaer Trolde Harbour
While Germist the Druid is at Gedyneith after completing the secondary quest Practicum in Advanced Alchemy
The last character "Madman" Lugos is at Kaer Muire.
This quest needs to be finished before Battle Preparations.
A Matter of Life and Death
A Matter of Life and Death is a three-game tournament that gives players the Dandelion card as well as additional cards depending on the DLCs installed.
A Dangerous Game
This is a side quest for Zoltan Chivay.
It rewards players with three unique cards.
Players are given the choice to keep the cards o take the money at the end of the quest.
Shock Therapy
Shock Therapy is a quest at Gedyneith
Players will need to harass a druid
It gives the lorveth card as a reward.
Gwent: High Stakes
A secondary quest that is available on arrival in Novigrad.
However, players will need 1,000 crowns to enter.
Also, ensure that you have a strong deck before entering the tournament.
Winning cards from matches
After exhausting the first two methods players will need to win matches against opponents in The Witcher 3 to gain Gwent cards. Each opponent can only yield a single card. If you defeat them again, they will just spawn random items.
That is about everything players need to know about getting all the Gwent Cards to Collect 'Em All in The Witcher 3. Follow these simple and easy steps to get the Collect 'Em All trophy in no time.
ALSO READ: The Witcher Becomes One Of Netflix's Highest Rated Series On IMDb