Daily Horoscope 25th July 2019: Check Astrological Prediction For Aries, Capricorn & Pisces
Today's Horoscope for zodiac sign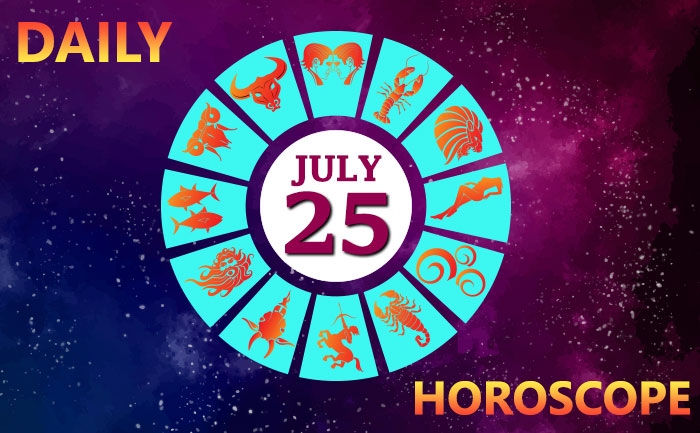 Horoscope Today 25rd July 2019: IF TODAY IS YOUR BIRTHDAY: Your radical number is 7 and your ruling planet is Neptune. You are a good looking person and also very spiritual but also a dreamer. You can become a good psychic and help others. Lucky colours for you are White and Yellow. Lucky dates are 2, 7, 11, 16, 22. and career-best for you are engineering, machinery, chemicals.
Here's your daily horoscope as per your sun sign:
Daily Horoscope ARIES
Today is a rewarding and enjoyable day. Be it for your romance or work-related stuff. It will also be a relaxing day for you. While you feel that everything will go your way, some things may not turn up exactly the way you want.  The lucky colour today is crimson and the lucky number is 6.
Daily Horoscope TAURUS
Today you are in a stay-at-home mood. You want to make a big bowl of popcorn and just relax. But take care, something new has a possibility of coming up and can't be posted. Take your loved one out for some fun time. Lucky colour for today is lilac and the lucky number is 4
Daily Horoscope GEMINI
You are in no mood for a conflict today. So you take as many precautions possible to avoid one. Also, you are in a good mood and it will be contagious. you are making others smile. You have the magic touch today. Your lucky number is 7 and your lucky colour is silver.
Daily Horoscope CANCER
Today you may be pulled into different things all at once. you may need help with that and do not hesitate to seek for it. You can be self-aware but you don't have t be too conscious about it. You are going to have a lot of mood swings. today. Your lucky colour today is red & the lucky number is 1.
Daily Horoscope LEO
You are not afraid to try but that is going to improve your life at work. You are going to have a super positive outlook at the things around you. That will help you succeed in every venture. The lucky colour for today is grey and the lucky number is 10.
Daily Horoscope VIRGO
Today you will be in high spirits and you will likely remain the same throughout. Tough situations at work would give you an opportunity to grow. You are accident-prone at this time, so do be careful while driving.  Your lucky colour today is red & the lucky number is 1.
Daily Horoscope LIBRA
You may be feeling motivated to take action in certain spheres of your life, dear Libra. Today be creative in how you motivate your employees and don`t forget to make them feel valued and appreciated. This will be a promising day, as love may enter your life and lift your spirits. The lucky number today is 9 and the lucky colour is brown.
Daily Horoscope SCORPIO
You see that all the things are gradually falling into places and you are too lazy to put your own thoughts. You just want them to happen gradually as you wish to have a quiet day. Expect today to be fruitful for you in the world of romance. The lucky colour today is silver and the lucky number is 2.
Daily Horoscope SAGITTARIUS
This is a great time to socialize and meet new people. Today in the office be prepared to be on the receiving end of a little criticism pay attention it will be helpful to you. You are feeling fit and fine both physically and emotionally.  Your lucky colour is green and the lucky number is 12.
Daily Horoscope CAPRICORN
Today you are meant to put a smile on your own face. But at the cost of wrong choices, you can easily destroy your future. Ensure that you do things with a very focussed yet calm mindset. the lucky number today is 8 and the lucky colour is amber.
Daily Horoscope AQUARIUS
Life is all about a little bit of this and that, there are no escaping problems in life. Students should seek out a qualified career counsellor today if they are still feeling confused. You will look for some relief from holistic or Ayurvedic treatments for your illness. The lucky number is 11 and the lucky colour is deep red.
Daily Horoscope PISCES
You have this sudden urge to get all your unfinished work done. You also want to return all the borrowed things. Just ensure that they are in good shape. You also want to be careful regarding what you are keeping and discarding. Brown is a lucky colour and 5 is the lucky number.
Also Read:  Leo Love Horoscope: Personality, Traits, Compatibility And Celebs Born Under This Sign