Tokyo 2020 Olympics: India Win Bronze In Men's Hockey; PM Modi, Akshay Kumar laud
The Indian men's team won the Bronze at the Tokyo Olympic Games. Prime Minister Narendra Modi, Akshay Kumar, and others congratulate.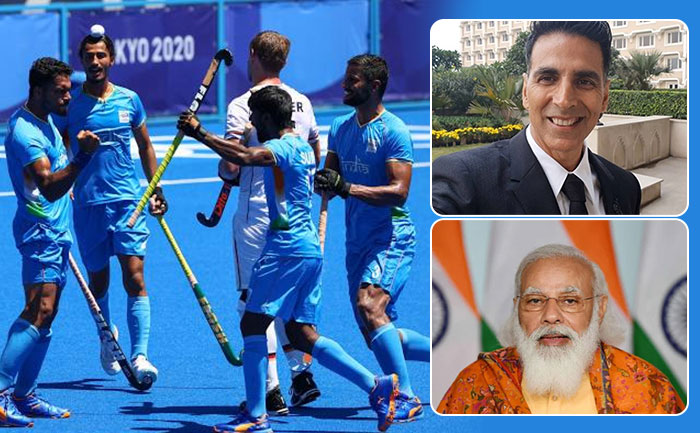 On Thursday, The Indian men's team defeated Germany 5-4 to win the Bronze Medal match at the 2020 Tokyo Olympics. They have won a medal at the Olympics in Hockey for the first time since 1980 and this is India's third Bronze medal in hockey in Olympic history.
Celebrating this historic win, Twitter has been flooded with congratulatory wishes including Prime Minister of India Narendra Modi, Shah Rukh Khan, Akshay Kumar, and many others who lauded the Indian team.
PM Modi: "Historic! A day that will be etched in the memory of every Indian. Congratulations to our Men's Hockey Team for bringing home the Bronze. With this feat, they have captured the imagination of the entire nation, especially our youth. India is proud of our Hockey team. 🏑"
Historic! A day that will be etched in the memory of every Indian.

Congratulations to our Men's Hockey Team for bringing home the Bronze. With this feat, they have captured the imagination of the entire nation, especially our youth. India is proud of our Hockey team. 🏑

— Narendra Modi (@narendramodi) August 5, 2021
Akshay Kumar: "Congratulations Team India on rewriting history! An Olympic medal after 41 years! What a match, what a comeback! #Tokyo2020"
Congratulations Team India on rewriting history! An Olympic medal after 41 years! What a match, what a comeback! #Tokyo2020 pic.twitter.com/3mdym3Cupa

— Akshay Kumar (@akshaykumar) August 5, 2021
Shah Rukh Khan: "Wow!! Indian Men's Hockey Team Congratulations. Resilience and skill at its peak. What an exciting match."
Wow!! Indian Men's Hockey Team Congratulations. Resilience and skill at its peak. What an exciting match.

— Shah Rukh Khan (@iamsrk) August 5, 2021
Anil Kapoor: "Phenomenal win .. wish my dad was alive to see this historic day will be happy up there .. Thank you so much men's hockey team ..congratulations !!!"
Phenomenal win .. wish my dad was alive to see this historic day will be happy up there .. Thank you so much men's hockey team ..congratulations !!! https://t.co/WZEzM0e5db

— Anil Kapoor (@AnilKapoor) August 5, 2021
Nimrat Kaur: "Huge congratulations to the men's hockey team!!! Absolutely incredible 👏🏼👏🏼👏🏼 #Olympics"
Huge congratulations to the men's hockey team!!! Absolutely incredible 👏🏼👏🏼👏🏼 #Olympics

— Nimrat Kaur (@NimratOfficial) August 5, 2021
Taapsee Pannu: "And it's a bronze !!!!!!! 💪🏾"
And it's a bronze !!!!!!! 💪🏾 https://t.co/xaZp4Mvwkl

— taapsee pannu (@taapsee) August 5, 2021
Sachin Tendulkar: "Congratulations to each & every member of the hockey contingent on winning the #Bronze for India! A fantastic hard fought win…The penalty corner save by Sreejesh in the dying moments of the game was amazing.👏🏻 Entire 🇮🇳 is immensely proud! #Hockey #Tokyo2020 #Olympics"
Congratulations to each & every member of the hockey contingent on winning the #Bronze for India!

A fantastic hard fought win…The penalty corner save by Sreejesh in the dying moments of the game was amazing.👏🏻

Entire 🇮🇳 is immensely proud!#Hockey #Tokyo2020 #Olympics pic.twitter.com/7Rtko9kS63

— Sachin Tendulkar (@sachin_rt) August 5, 2021
Tamannaah Bhatia: "A win that will go down in history! 🇮🇳 What a phenomenal performance by our men's hockey team 🔥 Bringing home the bronze after 41 years! Congratulations Team India 🇮🇳 #Olympics #Cheer4India #BackTheBlue"
A win that will go down in history! 🇮🇳
What a phenomenal performance by our men's hockey team 🔥
Bringing home the bronze after 41 years! Congratulations Team India 🇮🇳 #Olympics  #Cheer4India #BackTheBlue pic.twitter.com/oEAcOVz8h1

— Tamannaah Bhatia (@tamannaahspeaks) August 5, 2021
Amrita Rao: "Wooo Congratulations to Captain Manpreet Singh and to All our Golden Men who Bring the Bronze home 🇮🇳🏑 India is SO PROUD of You 🥉👏👏👏👏 #Olympics #Tokyo2020 #hockey #indiakagame #hockeysback #IndianHockey"
Wooo Congratulations to Captain Manpreet Singh and to All our Golden Men who Bring the Bronze home 🇮🇳🏑

India is SO PROUD of You 🥉👏👏👏👏 #Olympics #Tokyo2020
#hockey #indiakagame #hockeysback #IndianHockey pic.twitter.com/BHtQqRvl56

— AMRITA RAO 🇮🇳 (@AmritaRao) August 5, 2021
ALSO READ: Tokyo Olympics: India Team Loses 1-2 Vs Argentina In Women's Hockey Semis